Facing parliament vote, May says early election will boost her in EU talks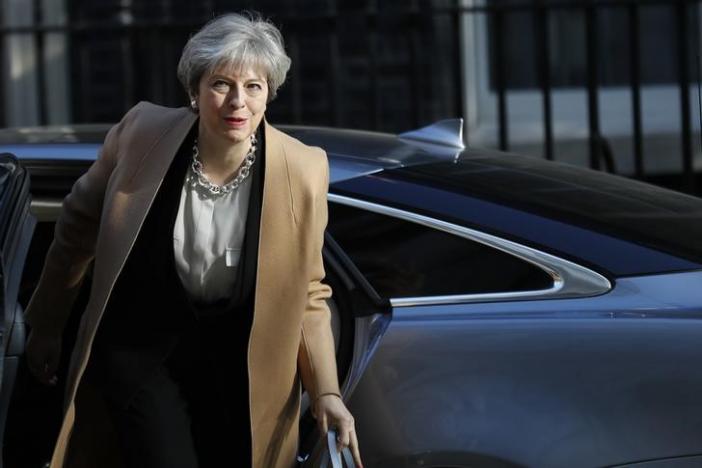 Prime Minister Theresa May said on Wednesday an early election would strengthen her at the "most crucial point" in Britain's divorce talks with the EU, as she prepared to ask parliament to approve a vote in just seven weeks' time.
May surprised allies and opponents on Tuesday when she announced her plan to bring forward an election that was not due until 2020.
The former home secretary, who became prime minister without an election when her predecessor David Cameron quit after last year's referendum vote for Brexit, said she needed to strengthen her hand in negotiations which will reshape Britain and test the cohesion of the EU.
"I've taken this decision because I genuinely believe it is in the national interest," May told BBC radio.
"If you look at the timetable, had the election been in 2020 we would have been coming up to the most crucial part of the negotiations, at the end of the negotiations, in what would be starting to be the run-up to a general election."
She is expected to win the necessary backing of more than two-thirds of parliament in a vote that is likely to take place soon after 1300 GMT.
May enjoys a runaway lead in opinion polls over the main opposition Labour Party, and the British economy has so far defied predictions of a slowdown, offering her a strong base to launch a poll some lawmakers described as "opportunistic".
Experts predict that her ruling Conservative Party could win around 100 more seats at the election on June 8, which should bolster support for her Brexit plan - a prospect that has strengthened the pound.
The Sun, Britain's top-selling newspaper, splashed the headline "Blue Murder" - a reference to the Conservatives' colour branding and the prospect of Labour losing dozens of seats.
"Crush the Saboteurs" was the headline on the front page of the Daily Mail, the second-highest selling newspaper.
RELUCTANT CHOICE
May formally notified the European Union on March 29 of Britain's intention to leave, beginning a two-year negotiating period to settle divorce terms and agree a new trading relationship. She said she was confident of reaching a deal in that time frame.
She said on Tuesday she had "reluctantly" come to the decision to call for an early election because of political division in Westminster, suggesting that opposition parties were trying to thwart her plans for leaving the EU.
Labour and the much smaller opposition Liberal Democrats said they would vote in favour of the early election, all but guaranteeing her decision will be approved.
But Scotland's first minister, Nicola Sturgeon, described the decision as a "huge political miscalculation" that could help her efforts to hold a new independence referendum.
Both Sturgeon's Scottish Nationalists and the Liberal Democrats want Britain to remain in the EU's single market - something May has ruled out, along with a referendum on any deal she wins.
"There will be no second referendum," May told the BBC. "The British people voted last year to leave the European Union ... There can be no turning back."
May, who has described herself as "not a showy politician", also said she would not take part in television debates before the election, preferring to talk directly to voters.
"I believe in campaigns where politicians actually get out and about and meet the voters," he said. "That's what I believe in doing and that's what I'm going to be doing around this campaign."
Follow Emirates 24|7 on Google News.