Floods add to Europe's cold as death toll climbs past 360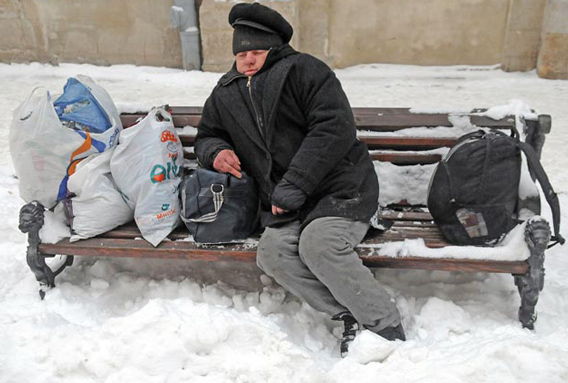 The toll from Europe's winter weather pushed past 360 Monday when snow- and rain-swollen rivers burst a Bulgarian dam and killed at least eight, while more homeless people perished on frigid city streets.
Four elderly people drowned in their homes in the southeastern Bulgarian village of Biser after a nearby dam wall broke, submerging the whole village under 2.5 metres (eight feet) of icy water, the interior ministry said.
Another four people died when their cars were swept from bridges into raging rivers in the same region.
"People are in panic," regional mayor Mihail Liskov said on national radio as a massive rescue effort was under way. "Ninety percent of the village is under water."
Two other dams were brimming with water and heavy rains triggered a landslide that derailed a train near the Turkish border. No injuries were reported.
Temperatures touched new lows in parts of Europe, including Switzerland which reported the mercury dipping to minus 35.1 Celsius (minus 31 Fahrenheit) overnight in the eastern Graubuenden canton and the Czech Republic, where the town of Kvilda recorded a winter low of minus 39.4 Celsius (minus 38.92 Fahrenheit).
As has been the case throughout the 10-day-old cold snap, transients have borne the brunt of the suffering, with frozen victims found in abandoned and unheated homes, fire escapes or makeshift shelters on Europe's streets.
In a bid to save lives, Poland's homeless shelters have dropped a ban on drunken individuals.
Monika Golebiewska, a Warsaw police officer whose beat is a daily patrol bringing food and clothing to the homeless, said she had been unrelentingly busy.
"New (fatal) cases are reported to us daily. Just today we got calls telling us about two new ones, one of someone who was living in a tent and another of someone in an abandoned train station," Golebiewska said. "I've got more and more people to feed, but just 40 portions of soup a day."
Across the continent, authorities have reported at least 368 weather-related deaths.
In Lithuania, where the temperature has dipped to minus 31 Celsius (minus 24 Fahrenheit), the deaths of 12 more people over the weekend brought the toll to 23.
Schools were closed until Tuesday in Rome, as authorities battled to clean up the city after a rare snow storm. Other Italian regions including Tuscany and Umbria were bracing for fresh snow in coming days.
Crews were also struggling to restore power to about 60,000 homes across the country, especially in the Tuscan cities of Siena and Arezzo.
Energy giant ENI began reducing gas supplies to industrial clients and switching from gas-fired to oil-fired power stations following a plunge in gas imports from Russia.
ENI's chief executive Paolo Scaroni said: "We are in an emergency and we have reacted to this emergency by increasing gas imports from Algeria and from northern Europe via Switzerland.
"We won't have problems until Wednesday," he said on new channel Radio 24.
In France, electricity consumption hit a record amid the cold.
In Bosnia, residents of dozens of hamlets were trapped by continued heavy snowfall, mostly in the eastern region around Srebrenica and Sokolac.
"The snow has reached over 1.5 metres (4.9 feet), it is still snowing and we have already been blocked for over a month," said Dzevad Muminovic, who lives in the tiny village of Krusev Do.
He added food was running out and about 40 people were trapped.
The bitter cold has even crossed the Mediterranean into north Africa, where as many as 19 people were killed on Algeria's snow-slicked roads or in other weather-related accidents.
Rare snow also fell in southern Tunisia for the first time in some 40 years, media reported.
People in the Netherlands, however, were sharpening their skates in the hope that a legendary long-distance race on frozen canals may be held for the first time in 15 years, though organisers cautioned the ice was still too thin.
Follow Emirates 24|7 on Google News.