Gangs stir fear, chaos in Tunisian town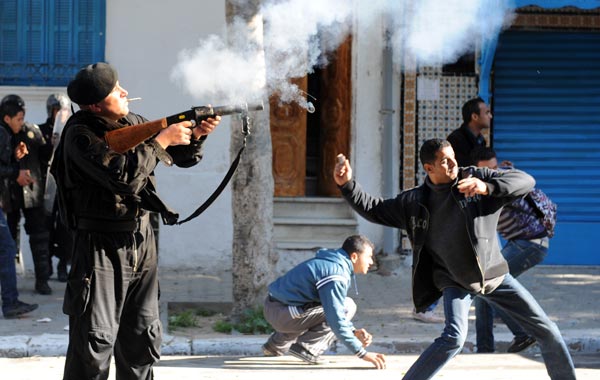 Gangs armed with knives and sticks roamed the streets of the Tunisian town of Gessrine on Monday, attacking government buildings and threatening residents, witnesses and the state news agency said.
The gangs burnt a youth centre and attacked a number of other buildings in Gessrine, a marginalised town in the interior of Tunisia, the official TAP agency reported.
A strike meant police were not on the streets on Monday and the army has struggled to restore order in Gessrine. There were no immediate reports of deaths or injuries.
Weeks of popular protests forced president Zine al-Abdine Ben Ali to flee the country on Jan 14, ending 23 years of police rule; but demonstrations continued as many Tunisians felt the interim government that took over retained too many symbols of the old regime.
Major street protests have begun to dry up in recent days after a reshuffle purged the interim government of most of the old guard but gangs of youths marauded through central Tunis on Saturday, dispersing a protest by Tunisian feminists.
They were chased away on the central Bourguiba Avenue by shopkeepers, also armed with knives and sticks, who said they had had enough of the distrubances and wanted to protect their businesses from looters and saboteurs.
Some shopkeepers suggested the gangs were either loyalists of the former ruling RCD party or paid by Ben Ali to create havoc in the streets. Like the youths marauding through Gessrine, they did not appear to be protesters with particular political demands.
Ben Ali, who was interior minister before he took power in 1987, had a vast network of police, interior security forces and spies. That network has not been dismantled since the revolution. Diplomats say that while Ben Ali's presidential guard had mostly been scattered or killed, a small number of armed loyalists may remain inside the country.
Follow Emirates 24|7 on Google News.