Great white shark bites surfer's board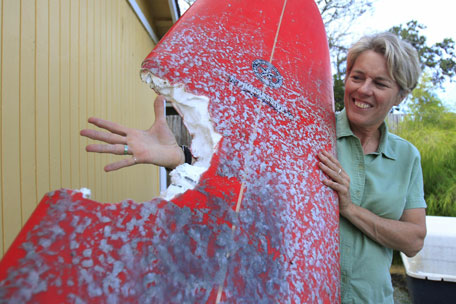 A surfer escaped injury on Saturday after a great white shark bit her board off California's central coast.

Elinor Dempsey, 54, said she was surfing at Morro Strand State Beach, just north of Morro Bay, around 10 am when a shark swam under her board and chomped on it, leaving an approximately 14-inch (35-centimeter) wide bite mark.

Dempsey pushed her board toward the shark as she jumped off.

Other surfers who saw the attack warned everyone else to get out of the water. Some of the surfers helped Dempsey reunite with her board, and she got back on it to get to shore.

Officials closed the beach for 72 hours and posted warning signs at nearby beaches, said the beach's supervising ranger, Lisa Remington.

Experts will analyse the bite mark and teeth pattern to determine the size of the shark.

A US Fish and Wildlife biologist who happened to be in the area and examined the board estimated that the shark was a 6-foot (1.83-meter)-long adult male.

Dempsey told the San Luis Obispo Tribune (https://bit.ly/1LKdmuj ) that she was shaken by her close encounter with the shark and might take a break from surfing.

"I'll be staying close in from now on," she said. "I'll probably be on my boogie board for a little while."
Follow Emirates 24|7 on Google News.