Greece backs austerity measures as Athens burns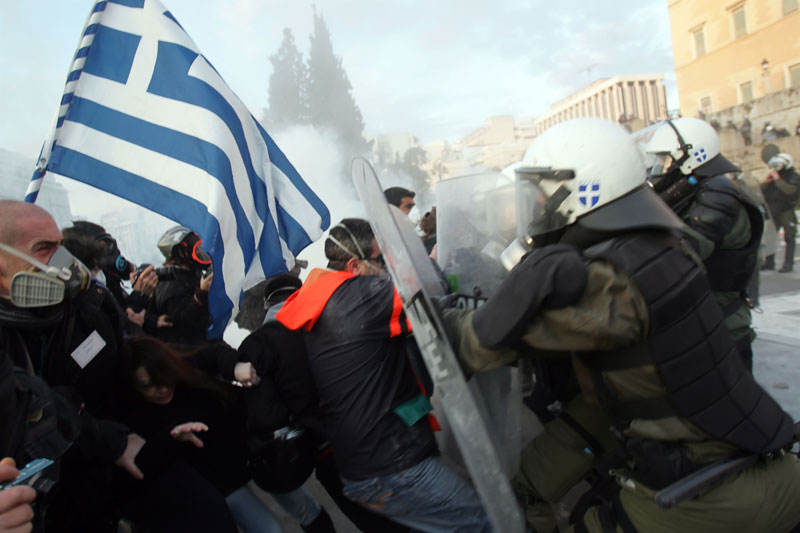 Greek lawmakers approved a new round of drastic austerity measures late on Sunday after a long day of street battles between police and protesters left dozens injured and Athens buildings ablaze.
Deputies defied a 100,000-strong turnout by demonstrators in Athens and Thessaloniki and approved another round of stringent budget measures sought by Greece's international creditors in return for a multi-billion rescue fund.
Markets were cheered by the move, with the euro rising in Asian trade on Monday while Asian stocks were also higher.
"If we collapse, we won't be able to fix anything anymore ... the package is the country's only hope," Greek Prime Minister Lucas Papademos had said before the tense vote, with thousands of police standing guard outside.
Of 278 deputies present, 199 voted for, and 74 against the measures, parliament speaker Philippos Petsalnikos said.
Rebels from Greece's majority socialist Pasok party and the rightwing New Democracy who voted against the legislation were immediately expelled from their parties.
Papademos had told deputies to "assume their responsibility" and make the most important choice of "advancing with Europe and the single currency."
On Syntagma Square, which adjoins parliament and has become a hub of popular anger, emergency workers on Sunday braved a barrage of rocks and tear gas to evacuate the wounded.
Protester die-hards brandished homemade flame throwers, in addition to the usual petrol bombs, an AFP reporter said.
As nearby storefronts burned, fire engines were initially unable to intervene because of the size of the protest and the chaos that filled the streets around parliament.
When the masked protesters tried to break through the riot police cordon around parliament, the standoff turning into running battles.
The civil protection ministry counted 40 fires in Athens with several buildings set ablaze, most of them by petrol bombs. The health ministry said 54 people were injured.
Papademos denounced the violence, saying it had no place in a democracy.
An estimated 80,000 protesters gathered in Athens, police said, matching the biggest turnouts achieved against earlier austerity packages last year, while around 20,000 also demonstrated in Greece's second city of Thessaloniki.
Finance Minister Evangelos Venizelos had told parliament that Greece would be forced to default if lawmakers did not back the government-approved plan to unlock a 130 billion euro ($171 billion) rescue fund from the European Union and the International Monetary Fund.
Sunday's vote will not in itself release the much-needed funds and eurozone finance ministers who say their patience has been sorely tested by Athens are set to meet on Wednesday in Brussels to discuss the next step.
The pressure on Greece is huge as eurozone leaders turn increasingly impatient with Athens and less concerned about the wider dangers of the debt-crippled country stumbling out of the single currency bloc.
Philipp Roesler, the economy minister of Germany, said on Sunday that the prospect of such an exit is becoming a "D-Day" that is "less scary."
Greek lawmakers also have to back a bond swap agreed with private creditors which will wipe out around 100 billion euros from Greece's debt.
Venizelos said the government must carry out the bond swap by Friday in order to have enough time to prevent a chaotic bankruptcy when Greece must pay nearly 14.5 billion euros in maturing debt on March 14.
"If that does not happen, the country will be bankrupt," Venizelos said.
After the parliament vote, the euro rose to $1.3252 in Asia from $1.3181 late Friday in New York, and to 102.83 yen from 102.47 yen, while Asian stocks were mostly higher.
Eurogroup finance ministers were meant to approve the new bailout last week but balked on fears that Athens -- which is struggling with a 350 billion euro debt mountain -- would fall short of meeting its commitments.
Even with parliament's approval, the EU wants Greek political leaders to sign a commitment to adhere to the austerity measures before Papademos holds elections expected in April.
"While the Greek parliament passed the austerity measures, the short-term risk for the euro is skewed to the downside as investor doubts still remain over whether Athens will be able to get the second bailout promptly," Barclays Capital chief Japan strategist Masafumi Yamamoto told Dow Jones Newswires.
He said some policymakers in Germany were doubtful about Greece's ability to implement the austerity deal and may still deny Athens the bailout funds.
The new austerity measures are likely to heap more hardship on ordinary Greeks already suffering from the debt crisis.
They involve a 22-per cent cut in the minimum wage, with 32 per cent for workers under 25; deregulating the labour market to make it easier to lay off workers; and a package of tax and pension reforms.
Sunday's protesters included trade unionists, youths with shaven heads waving Greek flags, communist activists and left-wing sympathisers, many of them equipped with gas masks.
They denounced what they described as blackmail by the international troika of the EU, the IMF and the European Central Bank.
"It's not easy to live in these conditions," said 49-year-old engineer Andreas Maragoudakis. "By 2020 we will be the Germans' slaves."
Civil engineer Anastasia Papadaki, 27, said "the measures are not the solutions to the problem as they will not bring growth. "It's just the international community blackmailing us."

Follow Emirates 24|7 on Google News.