Greece reaches deal with EU and IMF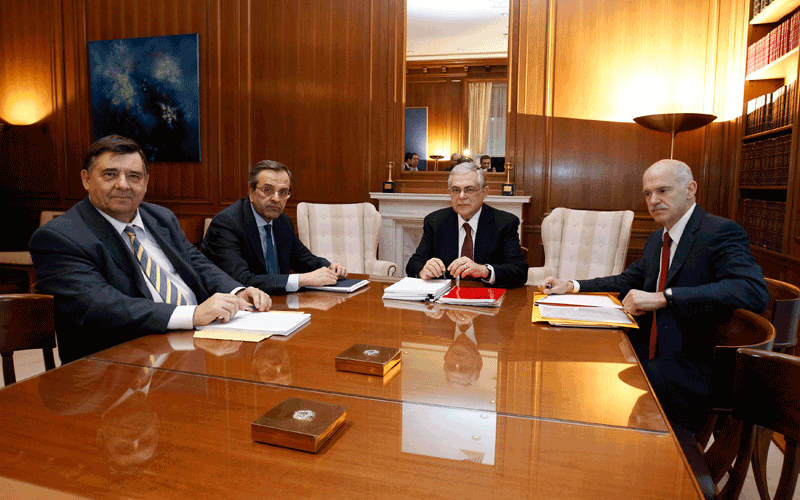 Greece's coalition leaders on Thursday reached a "general agreement" on additional austerity measures demanded by EU-IMF creditors in return for a debt bailout, the government said ahead of crunch eurozone talks.
"There is a general agreement on the contents of the new programme," the government said in a statement, referring to a eurozone bailout worth 130 billion euros (ê171 billion) that officials have laboured on since October.
Marathon talks between the socialist, conservative and far-right parties backing the government of Prime Minister Lucas Papademos had concluded in the early hours of Thursday short of a full deal, with 625 million euros in budget cuts missing.
The party leaders had initially balked at ordering cuts to complementary pensions in a biting recession to make up around half of that shortage.
"Consultations with the troika on the issue left open for further discussions were successfully concluded this morning," the government said.
"The political leaders agreed with the result of these consultations," it added without giving further details.
European Central Bank chief Mario Draghi told reporters in Frankfurt that he had received a phone call from Greek Prime Minister Lucas Papademos just minutes earlier and "he told me that agreement has been reached and has been endorsed by major parties."
The announcement was made just ahead of a Eurogroup meeting in Brussels attended by Greek Finance Minister Evangelos Venizelos that will have to approve the wider debt deal.
"I leave for Brussels with hope that the Eurogroup will take a positive decision concerning the new aid plan," Venizelos said prior to his departure.
An EU diplomat told AFP there is also "consensus" on the voluntary writedown by private creditors of their holdings of Greek bonds -- "the biggest debt restructuring ever."
Private creditors, who are negotiating an exchange of bonds that will save Greece at least 100 billion euros, are to meet on Thursday in Paris before the Eurogroup meeting, according to a spokesman.
Follow Emirates 24|7 on Google News.