Greeks seek elusive bailout deal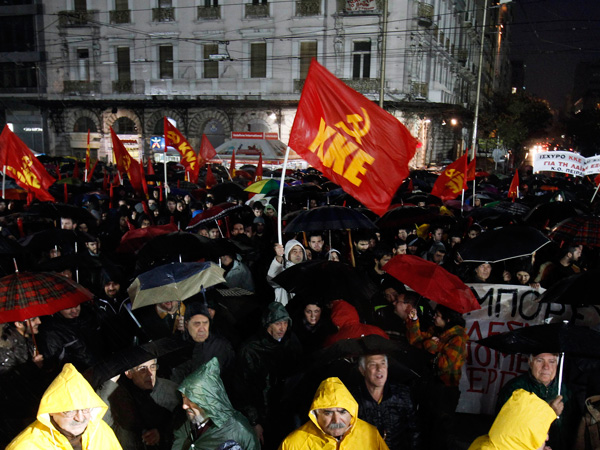 Greek parties will try yet again on Wednesday to strike a reform deal in return for a new international rescue to avoid a chaotic default, after a string of delays which have prompted some EU leaders to warn that the euro zone can live without Athens.
As one deadline after another has come and gone, leaders of the three parties in the coalition of Prime Minister Lucas Papademos postponed what was supposed to have been a crunch meeting on Tuesday until the following day.
Papademos - a technocat parachuted in last November to secure the new 130 billion euro ($172 billion) rescue from the IMF and EU - is trying to persuade the party leaders to accept austerity and reform measures which are likely to prove highly unpopular with an angry and despondent Greek electorate.
Facing a parliamentary election possibly as early as April, coalition leaders showed little sense of urgency, despite demands from euro zone leaders to make up their minds fast because Greece faces bankruptcy next month unless it gets the rescue funding to meet big debt repayments falling due.
"We can't say a plain yes or no unless we have assurances from the relevant authorities of the state that these actions are constitutional and will lead the country out of the crisis," said George Karatzaferis, who leads the far-right LAOS party.
"There is time. When it comes to future of the country, we will find the time," he told reporters.

One party official blamed Tuesday's delay on missing paperwork, the same reason given when the meeting was postponed from Monday to Tuesday.
The heads of the conservative New Democracy, PASOK socialists and LAOS had yet to receive the draft agreement with the EU and IMF only half an hour before they were supposed to meet Papademos on Tuesday, he said.
Party leaders have hesitated to accept the tough terms of the deal, which are certain to mean a big drop in living standards for many Greeks.
Adding to the pressure, unions staged a 24-hour strike on Tuesday, and protesters tussled with police outside parliament, chanting: "No to mediaeval labour conditions!"
Deadlines are losing significance as one after another passes. Last weekend, Finance Minister Evangelos Venizelos said a deal had to be done by Sunday. Then the parties sailed past a Monday deadline to give their response to the EU, promising that Tuesday would be the day for decisions.
Such apparent dithering is a challenge to the authority of German Chancellor Angela Merkel, whose government is a major funder of Greek bailouts. She said on Monday that "time is of the essence" and expressed bewilderment about what the repeated delays could achieve.
Follow Emirates 24|7 on Google News.