Haiti urbanization rises but not wealth: World Bank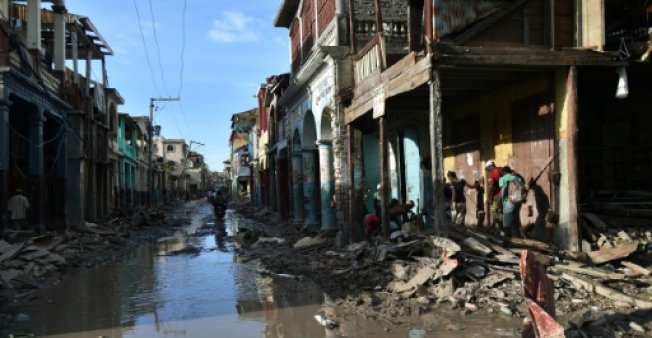 Urbanization is on the rise in Haiti, the third most urbanized country in Latin America and the Caribbean, but economic growth is still lagging behind, the World Bank said Tuesday, warning of the increased threat of natural disasters on cities growing unabated.
More than six million people, or 64 percent of the population, now live in cities in the poorest country in the Americas, compared to just a third of residents in 1996, the global financial institution said in a report.
But, unlike the global trend, economic growth has not accompanied urbanization in Haiti. GDP per capita dropped from $757 in 1996 to $727 in 2013.
"There's been a process of very rapid urbanization, at an average pace of five percent per year, that has not been coupled with adequate infrastructure investments to handle this urban growth," World Bank's Director for Social, Urban and Resilience Global Practice Sameh Wahba told AFP.
Basic services are also severely lacking. Coupled with the lack of infrastructure, this undermines productivity and livability, the report noted.
Poor funding means more than a third of urban residents lack access to clean drinking water, while two thirds lack improved sanitation. An estimated eight percent defecate openly.
And most urban residents struggle more than their rural counterparts to find jobs.

"Rather than benefitting from high densities, cities in Haiti today are overcrowded places with wide gaps in infrastructure and services," the report said.
"Resilient urban growth is hindered by these gaps and by increased exposure to natural disasters, and by ineffective land use planning."
The dysfunction and cost of the transportation system means that about three quarters of urban dwellers do not take motorized transport on a daily basis, opting either not to travel or to walk everywhere.
"Improvements in the connectivity system are required to increase resilience and promote economic growth and job creation," the report says.
Wahba noted that in the capital Port-au-Prince, pedestrians have access to an average of just 12 percent of jobs in the city, which "reduces their chances of increasing income."
And the urban growth also makes the country more vulnerable to natural disasters.
Eight years after a devastating earthquake killed more than 200,000 people and caused damage worth an estimated 117 percent of GDP, chaotic construction is still pervasive, despite a construction code.
Almost all of Haiti's land area is considered "medium" or "high" earthquake risk, and the World Bank estimates 58 percent of built-up areas face a risk of flooding.
The World Bank recommended serious investment in basic services to provide "resilient" urban planning and better prepare for urban growth. It also called for improved transportation and better municipal financing.
Follow Emirates 24|7 on Google News.