Hosni Mubarak braced for 'Friday of Wrath'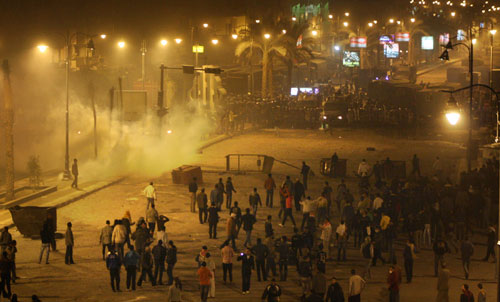 Egypt mounted a security clampdown in Cairo and blocked internet sites and the mobile phone system in a face-off with thousands of protesters who promised a "Friday of Wrath" aimed at ending Hosni Mubarak's 30-year rule.
Emboldened by this month's revolt that toppled the leader of Tunisia, Egyptians have staged mass protests since Tuesday and web activists have called for Muslims and Christians to demonstrate after Friday prayers. Hundreds have been arrested.
Members of the Muslim Brotherhood, including at least eight senior officials of the opposition group and its main spokesmen, were rounded up overnight. A security source said authorities had ordered a crackdown on the group.
Young protesters want an end to President Mubarak's authoritarian rule that has used heavy handed security to crush dissenters who complained about unemployment, inflation and corruption which has created a huge gap between rich and poor.
The same complaints about corruption and poverty cross the region and prompted protests in countries like Algeria and Yemen as well as the demonstrations what led to the end of Tunisian President Zine Al Abidine Ben Ali's 23-year rule.
"Inflation has exhausted people. Prices of food, fuel, electricity, sugar are rising...The rich get richer and the poor poorer," said a taxi driver, declining to be named. "God knows what will happen today. After Tunisia anything is possible."
Internet via Egyptian servers was blocked across the country shortly after midnight, closing a key tool for activists relying on social media networks. Mobile phone and text messaging services also appeared to be disabled or working sporadically.
Facebook has been the main vehicle for announcing Friday's protest and identifying locations for demonstrations.
The government has accused the Muslim Brotherhood of planning to exploit the youth protests for its "hidden agendas", while the Brotherhood says it is being used as a scapegoat.
Security forces shot dead a protester in the north of the Sinai region on Thursday, bringing the death toll to five.
"The Egyptian government's actions tonight have essentially wiped their country from the global map," US-based Internet monitoring firm Renesys said of the shutdown it described as "unprecedented in Internet history", going far beyond measures taken during Tunisia's protests or a 2009 uprising in Iran.
Ahead of Friday's protests, trucks of police lined side roads leading to Tahrir, a central square in Cairo where there were some of the biggest demonstrations on Tuesday and also some of the most violent clashes.
Fire trucks with water cannon were also parked at sites where demonstrators are expected to gather, including near al-Azhar mosque and a presidential palace in central Cairo.
Streets smoulder
Demonstrators fought security forces into the early hours in the eastern city of Suez, and late on Thursday security forces dispersed protesters with teargas in Giza, on the outskirts of the capital.
On Friday, piles of smoking trash lay on the streets of Suez and smoke poured from a fire station gutted by a blaze caused by protesters late on Thursday.
Egypt has been under emergency rule throughout Mubarak's term in office. The government says it is used to combat terrorism, critics say it is used to stifle any dissent.
Egyptians living abroad posted in their Facebook status updates: "Egyptian government blocking Internet and SMS services. Mubarak is trying to put Egypt under a media and communications blackout.
"Word needs to get out to the international community so that the state cannot commit violence against protesters without anyone watching. Protect Egypt's protesters by getting word out any way you can."
There has been no immediate comment from the government about the shutdown.
President Barack Obama called on Mubarak to make "absolutely critical" reforms for the long-term well-being of the country as he answered questions from an online audience on the YouTube website on Thursday.
Many protesters are young. Two thirds of Egypt's 80 million people are below the age of 30, and many of them have no jobs. About 40 percent of Egyptians live on less than a $2 a day.
Obama and his aides are performing a delicate balancing act as political upheaval rocks the Middle East, from Tunisia, to Egypt and Yemen, where thousands took to the streets of Sanaa to demand a change of government.
US State Department spokesman P.J. Crowley said in a "tweet" message on Twitter: "We are concerned that communications services, including the Internet, social media, and even this tweet are being blocked in Egypt."
Galvanising people
German Foreign Minister Guido Westerwelle said Berlin had told Egypt's government "time and again" that only by respecting democracy and civil rights could the country be stabilised.
A page on the Facebook social networking site listed more than 30 mosques and churches where protesters were expected to gather after prayers on Friday.
The latest death was in Sinai. Video obtained by Reuters showed the man among a group of protesters some distance from security forces when he suddenly collapsed with a gunshot wound. The video circulated widely on the Internet, galvanising anger.
The Muslim Brotherhood has kept a low profile during the protests, although its supporters were expected to join demonstrations on Friday.
Nobel Peace Prize winner Mohamed ElBaradei, who returned to Egypt from Vienna on Thursday, has called for Mubarak to resign and said he would join the protests on Friday.
The government has urged Egyptians to act with restraint on Friday. Safwat Sherif, secretary-general of the ruling National Democratic Party, told reporters:
"We hope that tomorrow's Friday prayers and its rituals happen in a quiet way that upholds the value of such rituals ... and that no one jeopardises the safety of citizens or subjects them to something they do not want."
Follow Emirates 24|7 on Google News.