Hu faces rough welcome in US Congress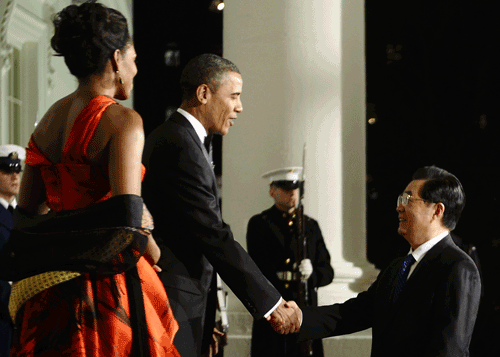 Chinese President Hu Jintao was to meet Thursday with US Congress leaders who have condemned Beijing's rights record, economic policy, and role in nuclear standoffs with Iran and North Korea.
One day after talks with President Barack Obama at the White House, followed by a glitzy state dinner, Hu was to pursue his high-stakes state visit at the US Capitol before heading to Obama's hometown of Chicago.
The Chinese president was to meet first with Republican US House Speaker John Boehner, Majority Leader Eric Cantor, Democratic House Minority Leader Nancy Pelosi and other senior lawmakers in the House of Representatives.
Hu was later to head to the Senate for talks with Democratic Majority Leader Harry Reid -- who branded his guest "a dictator" on Tuesday then withdrew the remark -- and Senate Foreign Relations Committee Chair John Kerry.
Reid and Boehner declined invitations to the state dinner for Hu, as did Republican Senate Minority Leader Mitch McConnell, who was to miss the Chinese leader's visit entirely, in favor of events in his home state of Kentucky.
Obama's public appeal Wednesday for Hu to embrace "universal rights," set a "level-playing field" for US firms in China, and battle intellectual piracy were unlikely to soothe congressional anger.
Historically high US unemployment and an unpopular decade-long Afghan war, coupled with China's economic and military rise, have fed a narrative of US decline and fueled resentments of Beijing among the US public.
And Reid raised eyebrows late Tuesday when he told a television interviewer in his home state of Nevada that Hu was "a dictator" -- before quickly regretting the remark.
"I am going to back to Washington and meet with the president of China. He is a dictator. He can do a lot of things through the form of government they have," Reid told KSNV television.
"Maybe I shouldn't have said 'dictator,' but they have a different type of government than we have -- and that is an understatement," said Reid.
Lawmakers have accused China of undermining international pressure to get Iran to halt its suspect nuclear program and get North Korea to dismantle its atomic arsenal and end transfers of weapons know-how to other countries.
Pelosi, a frequent, vocal critic of China's rights record, said in a statement before the talks that she would not back off.
"Since the Tiananmen Square massacre in 1989, there has been bipartisan concern in the Congress about the human rights situation in China and Tibet, the support of the Chinese government for rogue states, and China's unfair trade practices, which have ballooned our trade deficit from ê5 billion a year to ê5 billion a week."
Climate change and clean energy had also become key issues, Pelosi added.
"It is my hope that Chinese President Hu Jintao's visit to the United States is marked by candor and progress on these issues."
House foreign affairs committee chair Ileana Ros-Lehtinen planned to hand Hu a copy of a letter she wrote to Obama urging he not accept "superficial assurances" from Hu on "security, human rights, and economic issues."
"We need to provide leadership that inspires the American people to face the global challenges of a rapidly rising China," Ros-Lehtinen, a Republican, said in the letter, made public by her office.
And 84 lawmakers of both major US parties wrote a letter to Obama pleading with him to make clear that, with historically high unemployment, "America's patience is near an end" with China's alleged unfair competition.
Other lawmakers have warned they will introduce legislation to counter what they charge is Beijing's strategy of keeping its currency, and therefore its exports, artificially cheap when compared to their US competition.
Some of their colleagues denounced China over its human rights record, citing Beijing's imprisonment of Nobel Peace Prize winner Liu Xiaobo.

Follow Emirates 24|7 on Google News.