Huge crowds turn out for Mubarak 'departure day'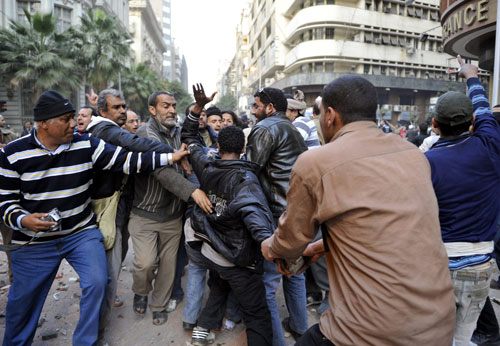 Egyptian protesters massed on Friday for sweeping "departure day" demonstrations to force President Hosni Mubarak to quit after he said he would like to step down but fears chaos would result.
Tens of thousands filled Cairo's central Tahrir Square, the epicentre of the 11 straight days of protests that have shaken the pillars of Mubarak's three-decade rule, on the Muslim day of rest.
At one end of the square the faithful prayed out in the open, beneath two traffic lights from each of which hung an effigy of Mubarak.
"We were born free and we shall live free," prayer leader Khaled Al-Marakbi said in his sermon. "I ask of you patience until victory."
Worshippers used newspapers, banners or even Egyptian flags as impromptu prayer mats, reciting the traditional prayer for the dead in memory of the more than 300 people who have died since the protests erupted, sending shock waves around the world.
The prayer leader and many in the vast open-air congregation cried, still shaken by the ferocious clashes with stone-throwing Mubarak supporters that had left at least eight people dead and more than 800 hurt over the previous two days and drawn a stern rebuke from Washington for its key ally.
There was a new pro-government rally on Friday in the upscale Mohandeseen neighbourhood of the capital but it was attended by dozens of people rather than the tens of thousands in Tahrir and participants told AFP they had no intention of going to the square.
The army deployed about a dozen vehicles around the perimeter to create a buffer zone in case pro-Mubarak demonstrators appeared, although AFP correspondents had seen none by early afternoon.
Troops wearing helmets and full riot gear and protest stewards wearing hard hats carried out identity checks at entrances to the square to prevent it being infiltrated by provocateurs.
Defence Minister Mohammed Hussein Tantawi -- regarded by Washington as a key plank of any post-Mubarak administration -- visited the square to appeal to demonstrators to give up their protest.
The authorities have been appealing to demonstrators to go home after Mubarak pledged earlier this week not to seek re-election in September.
But opposition groups from across the political spectrum have dismissed the concession as inadequate and have rejected calls by Vice President Omar Suleiman, Mubarak's veteran intelligence chief, to enter talks.
"The man (Mubarak) told you he won't stand again," Tantawi told the protesters flanked by troops, who urged the crowd to be seated.
Tantawi called on Egypt's most powerful opposition group, the Muslim Brotherhood -- outlawed for half a century -- to join a dialogue with the regime.
"Tell the guide to go sit down with them," he said, referring to the group's supreme guide Mohammed Badie.
Badie told Al-Jazeera television that the Brotherhood stood ready to enter talks, but only after Mubarak had gone.
"We stand with all the political forces supporting dialogue with whoever wants to implement reforms in the country after the departure of this unjust, corrupt tyrant," he told the Qatar-based satellite channel.
"We have a single demand. Once it is met, we will engage in dialogue."
And Mubarak's onetime foreign minister, Arab League chief Amr Mussa, said he doubted his former boss would leave any time soon.
"I do not think he (Mubarak) will leave. I think he will stay until the end of August," Mussa told France's Europe 1 radio.
In his first interview since the protests erupted, Mubarak blamed the Muslim Brotherhood for the violence of recent days, ABC television's Christiane Amanpour reported.
The veteran leader was "fed up with being president and would like to leave office now, but cannot, he says, for fear that the country would sink into chaos," Amanpour said.
"He told me that he is troubled by the violence we have seen in Tahrir Square over the last few days but that his government is not responsible for it. Instead, he blamed the Muslim Brotherhood."
Washington has been increasingly strident in its criticism of the deadly violence unleashed against the protesters, and foreign journalists, by Mubarak supporters in recent days.
State Department spokesman Philip Crowley said Washington had traced the violence against the protesters to "elements close to the government and the ruling party" even if it is not clear how far "up the chain" it goes.
UN human rights chief Navi Pillay demanded an investigation.
But in an interview with US network ABC, Suleiman denied that pro-government elements had been responsible for deaths among the protesters, insisting: "They behaved very well."
Washington has been pushing proposals for the vice president to take over at the head of a transitional government, which would immediately begin a process of constitutional reform aimed at paving the way for free and fair elections in September, the New York Times reported.
"Senior administration officials said that the proposal was one of several options under discussion with high-level Egyptian officials around Mr Mubarak in an effort to persuade the president to step down now," the paper said.
"They cautioned that the outcome depended on several factors, not least Egypt's own constitutional protocols and the mood of the protesters on the streets of Cairo and other Egyptian cities," it added.
And for at least some of the protesters in Tahrir Square on Friday, the replacement of Mubarak by Suleiman would not be enough.
"Suleiman is the same system," said Ragab, the owner of an advertising agency had joined the protest with his on Ammar 14.
"Suleiman is a good person but he is the same system. Any person can be president, a woman, a Muslim, a Copt, but we want the system out."
Egypt's regional rival Iran weighed in meanwhile, calling Mubarak a "servant" of Israel and urging the Egyptian people to rise up and establish an Islamic republic.
Mubarak should already have quit: McCain
Egyptian President Hosni Mubarak should already have left office, senior US Senator John McCain said Friday.
"I think he should have stepped down a few days ago," McCain told reporters during a visit to the Baltic nation of Lithuania.
"We appreciated the early years of the Mubarak regime. We are grateful to his government for its efforts to fight Al-Qaeda, but it is very clear the time has come for President Mubarak to step down," he added.
McCain, a former Republican presidential candidate who lost the race to his Democrat rival Barack Obama in 2008, this week helped craft a bipartisan resolution in the US Senate which urged Mubarak to create a caretaker government.
"The transition government needs to have democratic elements from all over Egyptian society," McCain said in Vilnius Friday.
"The army needs now to step forward, to keep this demonstration peaceful and be part of the transition government and play a major role," he said.
McCain on Wednesday led a growing chorus of US lawmakers calling for Mubarak to go, a stiffening of criticism for the long-time US ally after his supporters attacked peaceful anti-government demonstrators.
Follow Emirates 24|7 on Google News.