Hundreds of Iraqis protest lack of basic services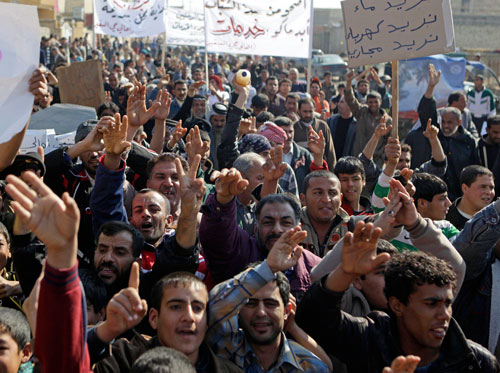 Hundreds of Iraqis took to the streets on Friday to demonstrate against a lack of basic services, the latest in a series of protests that have swept the country as turmoil rocks other parts of the Arab world.
Iraq has been slow to get back on its feet almost eight years after the US-led invasion and is trying to tackle severe water shortages and a sporadic electricity supply. Infrastructure remains badly damaged.
"This is like an alarm for the government. They have to listen to the people. They have to cut the growing corruption in government offices. They have to meet the basic needs," said Ahmed Abdul-Hussein, deputy editor-in-chief at state-run newspaper al-Sabah and a protest organiser.
In the capital Baghdad, hundreds of protestors marched peacefully under the watchful eye of the Iraqi army to the heavily-fortified Green Zone of government buildings and embassies, calling for an improvement in basic services.
"Where are your electoral promises, food rations and basic services?" one banner read. Another had "Tahrir Square Two" written on it, referring to the square in Cairo which has been the epicentre of protests calling for the resignation of Egyptian President Hosni Mubarak.
Hundreds of people also demonstrated around the Sadr City slum, while smaller protests were held in Mosul and Kerbala.
In the southern oil hub of Basra, a small group from the Communist Party demonstrated in support of protests in Egypt.
Although public dissatisfaction is a challenge to the government, Iraq has already been freed from autocratic rule that demonstrators in other countries like Egypt want to end.
"What kind of a government with an $82 billion budget can't provide sugar for the food ration?" said government employee Naseem Abid.
"We are not asking for huge projects or nuclear energy. Iraq is a country with oil and yet we have no oil for heating. We are different to Egypt. Our country is rich."
Iraq is one of the world's biggest importers of wheat and rice, much of which goes to a food ration programme that supplies 60 per cent of Iraqis.
Iraqis often complain of short monthly food rations.
Another chief complaint is intermittent electricity. The national grid only meets 60 percent of demand and shortages last year led to protests in southern cities.
"Our demands are clear. We want improved services, food rations, jobs for the unemployed. There will be more demonstrations, not only this one. We will continue protesting," Baghdad resident Hamad al-Muni'm said.
Follow Emirates 24|7 on Google News.