I didn't abandon ship... I fell into lifeboat: Costa captain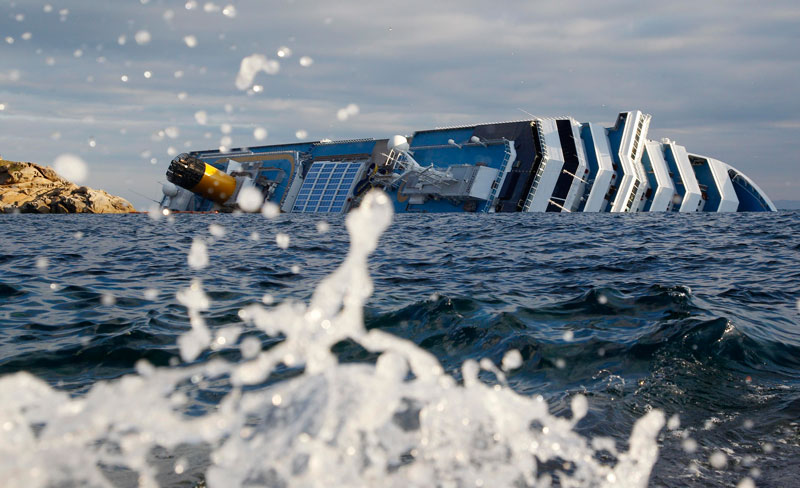 A new twist has emerged in the Costa Concordia tragedy with the vilified captain now claiming he did not abandon the ship - he slipped and fell overboard into a waiting lifeboat.
The stricken cruise-liner's captain Francesco Schettino is being lambasted in the Italian media as a coward who fled for dry land as others perished in the shipwreck.
The death toll now stands at 11, with 23 still missing.
Schettino has been quoted by the La Repubblica newspaper as telling investigators he did not intend to vacate the ship.
"The passengers were pouring onto the decks, taking the lifeboats by assault," the newspaper quotes him as saying.
"I didn't even have a life jacket because I had given it to one of the passengers. I was trying to get people to get into the boats in an orderly fashion. Suddenly, since the ship was at a 60 to 70 degree angle, I tripped and I ended up in one of the boats. That's how I found myself there."
Further claims of innocence came from Schettino when he appeared before a judge in Grosseto yesterday and was questioned for three hours.
His lawyer, Bruno Leporatti, gave Schettino's version of the tragedy.
Schettino says he prevented the loss of many lives by his actions immediately after the cruise-liner struck rocks.
He insists that after the ship hit rocks, he acted quickly to steer the vessel closer to shore and that this "saved hundreds, if not thousands, of lives".
Schettino, 52, faces 12 years in prison for a charge of abandoning the ship following last Friday's incident.
It is believed he sailed the ship fatally close to land to salute certain residents of the Island of Giglio - this involved manoeuvring from the ship's programmed course.
The captain is being held under house arrest and, according to Leporatti, has now returned to his family home near Naples.
Urine and hair samples were taken from Schettino to test whether he had consumed alcohol or drugs prior to the accident.
Search suspended

The search for survivors from the cruise ship disaster has been suspended after the ship shifted position, the BBC reported.
The hope of finding further survivors is fading, as officials fear the ship could move off its position balanced on rocks and slip into deeper water.
Follow Emirates 24|7 on Google News.