India braces for verdicts on deadly riots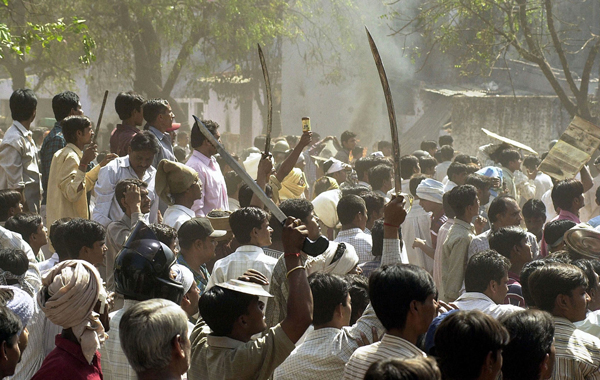 An Indian court is due Tuesday to deliver highly sensitive verdicts on a deadly train fire in 2002 that triggered anti-Muslim rioting in which 2,000 people were hacked or burnt to death.
The unrest, some of the worst religious violence in India since independence, was sparked after 59 Hindu pilgrims perished in a train fire at Godhra station in the western state of Gujarat.
Hindus in the state blamed the blaze on Muslim protesters at the station, and furious mobs seeking revenge rampaged through Muslim neighbourhoods in several cities during three days of bloodshed.
The cause of the train fire has never been clearly established and the case remains one of the most contested areas of dispute in the fractious relationship between India's Hindu and Muslim communities.
Gujarat's chief minister Narendra Modi -- a strident Hindu nationalist -- was accused of failing to stop the riots, and even of encouraging them, with police allegedly ordered not to intervene as the killing spread.
A special court in the city of Ahmedabad is scheduled to hand down verdicts on 94 people accused of criminal conspiracy and murder for burning the Sabarmati Express train coach on February 27, 2002.
Muslims deny setting the train ablaze, though a large, angry crowd had gathered at Godhra station to protest against the daily stream of Hindu passengers allegedly taunting Muslim porters and hawkers.
One national inquiry concluded the train fire was an accident but other official investigations contradicted that finding.
Extra police have been deployed across Gujarat to prevent any outbreak of communal violence in the wake of the verdicts, which come after the trial concluded in September.
Authorities have also banned television stations and newspapers from broadcasting or printing the many graphic images taken during the riots to avoid stirring up religious tensions.
The Hindus on the train were heading to the town of Ayodhya, another flashpoint for inter-religion unrest after a mosque was razed in 1992 by Hindu zealots, leading to riots that killed thousands of people, mostly Muslims.
Some observers feared a court ruling on Ayodhya last year would revive such scenes of carnage, but there was little public unrest after judges declared that the mosque site should be divided between Hindus and Muslims.
In Tuesday's Godhra train case, Judge P.R. Patel's verdicts will be followed closely by politicians in New Delhi as Modi has struggled to shrug off accusations about his handling of the bloodshed.
After the train blaze, he quoted Isaac Newton's law that "every action has an equal and opposite reaction" -- words seen as a deliberate signal of support for the vengeful killers.
Modi, a member of the opposition Bharatiya Janata Party (BJP), has since built himself a reputation by transforming Gujarat into one of India's most successful states, attracting massive business investment.
A Supreme Court panel earlier this month criticised him over the events of 2002, saying he had been "partisan" and had sought to play down the seriousness of the violence.
It noted Modi's "discriminatory attitude" in visiting the scene of the train fire at Godhra, but not the riot-affected areas in Gujarat's largest city, Ahmedabad.
Modi, who is seen by many in his party as a future prime minister, denies all allegations against him over the riots.
During the slaughter in Ahmedabad and elsewhere, baying Hindu mobs surrounded and raped Muslim women, then poured kerosene down their throats and their children's throats and threw lit matches at them.
Many eye-witness reports suggested police directed rioters to Muslim homes and also turned fleeing Muslims back towards the killers.
Previous investigations commissioned by the Gujarat government have absolved the state police and government of any collusion in the violence, which left 200,000 people homeless. Many Muslims never returned.
Follow Emirates 24|7 on Google News.