India celebrates 63rd Republic Day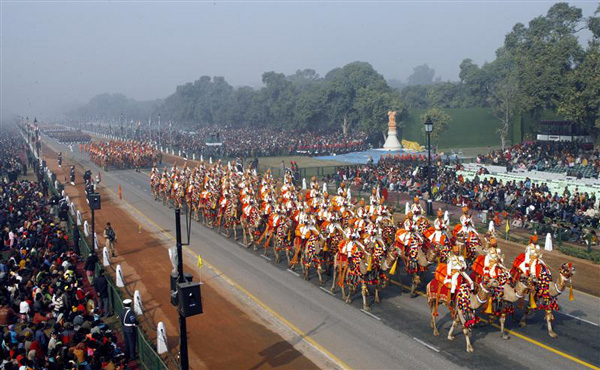 India celebrates its 63rd Republic Day on Thursday with great patriotic fervour and enthusiasm.
Prime Minister Manmohan Singh paid tribute to the martyrs at India gate.
President Pratibha Patil arrived at the Rajpath for the Republic Day Parade which began amidst tight security.
India's guest of honour for the Republic Day celebration this year is Thailand's first woman Prime Minister Yinluck Shinawatra. She is accompanying the President.
The parade at Rajpath showcases India's military strength and achievements in various fields displaying armour and unmanned aerial vehicles recently added to India's military prowess.
Also in display is the country's rich heritage and culture from different states.
People gather on both sides of the majestic Rajpath along the eight-km-parade route and cheer the contingents as they portray the diverse culture of the country.
A ground-to-air security apparatus has been put in place on the Republic Day with security personnel fanning out across various states in a bid to prevent any untoward incident.
Police and other para-military forces turned Delhi (capital) into a virtual fortress.
In the capital, over 25,000 police personnel, including those from paramilitary forces and sharpshooters from NSG, have been deployed in the run-up to the celebrations.
Snipers have been deployed at high-rise buildings while over 160 CCTVs are keeping a tight vigil on people's movement between Rajpath and Red Fort, the route of the parade.
Security has been similarly stepped up in the metropolises and sensitive states like Jammu and Kashmir and the North East.
As part of the stepped up measures, the airspace over the capital will remain closed for an hour on Thursday from 11.15am to 12.15pm.
No vehicles were allowed to ply on the Rajpath from 6PM yesterday.
Follow Emirates 24|7 on Google News.