India police broaden telecom graft probe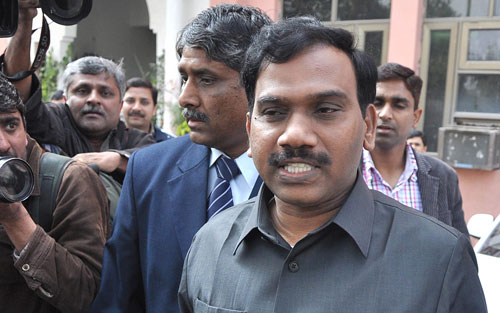 Indian police raided a television station linked to the government on Friday, as a widening investigation into a corruption scandal threatened the coalition and worried investors sent blue-chip stocks lower.
Prime Minister Manmohan Singh is under growing pressure over his role in the illicit sale of mobile phone licences, although he has said he would not resign, blaming the debacle on his sacked telecommunications minister, who is now under arrest.
Its blue-chip Sensex index turned negative after news of the raid, falling 1.8 per cent in afternoon trade. Investors are concerned the deepening probe will raise the possibility of licence revocation, which would damage key telecoms firms.
Mumbai is the world's worst performing major stock market this year, with losses of 11 per cent.
"Raids have been carried out today on the offices of Kalaignar TV in connection with the 2G scam," said a Central Bureau of Investigation (CBI) official, who declined to be identified.
The raids followed allegations that companies linked to Swan Telecom, under investigation in the sale of 2G mobile licences, had paid $47 million to the channel owned by the family that runs the Dravida Munnetra Kazhagam (DMK) party.
The south Indian-based party is a member of Singh's Congress party-led coalition, helping it maintain a slim majority in parliament. The DMK has denied any wrongdoing, as has Swan Telecom, now partly owned by the UAE's etisalat .
The DMK, from the state of Tamil Nadu, is not expected to leave the coalition but the investigation is testing its links with Congress and could put pressure on it to decide whether to stay in the alliance.
The corruption scandal has shaken India's business elite and shows no signs of abating. Billionaires Anil Ambani and Prashant Ruia have both been questioned by the CBI, something unheard of in India in recent times.
Shares in companied linked to the scandal have suffered. Reliance Communications , India's No. 2 mobile phone operator controlled by Anil Ambani, fell 6.9 per cent on Friday.
The Sensex is down 11 per cent this year, the worst performers among major Asian markets, with worry about graft keeping investors on edge.
"FIIs (Foreign institutional investors) don't know how deep is the corruption mess yet. So, they are either staying away or exiting when they have an opportunity," said Prakash Diwan, head of institutional business at Networth Stock Broking in Mumbai .
The CBI is investigating whether Swan Telecom, now renamed Etisalat DB, paid a bribe to the DMK in exchange for the former telecommunications minister and senior DMK member, Andimuthu Raja, giving the company a mobile phone licence.
The investigation of the sale of licences in the world's second largest mobile phone market is the biggest crisis to face the prime minister and his ruling coalition since they were returned to power in 2009.
TESTING COALITION
The Congress party-led government is not in great danger of collapsing because of its support from its coalition allies, whose positions within government keep them from jumping ship.
Most analysts expect the DMK to stick with Congress for fear they would do worse in an upcoming state election this year.
"These raids, Raja going to jail, and the promise of a substantial reshuffle, show Singh is determined to do what he wants to do, but if he can't show improvements in the next two months, the long-term issues (of remaining in power) will become more scrutinised," said Manoj Joshi, an editor at the Mail
Today.
The government on Thursday scrapped another lucrative satellite telecoms contract because of irregularities, dealing a fresh blow to Singh, whose office was ultimately responsible for the deal.
Foreign investors, keen to get into one of the world's fastest growing major economies, are starting to pay close attention to the scandal as it has exposed India's struggle with regulation and transparency.
India has long grappled with cracking down on corruption, which has not significantly hurt foreign investment due to the market potential of Asia's third-largest economy.
The last parliamentary session was halted by opposition protests demanding an investigation into the telecoms scam, effectively stopping any reform bills such as one to make land acquisition easier for both industry and farmers.
Singh's government appears close to agreeing to a broad, cross-party investigation into the 2G mobile scandal, paving the way for parliament to resume for a Feb. 21 budget session.
Follow Emirates 24|7 on Google News.