India train disaster families protest amid anger over safety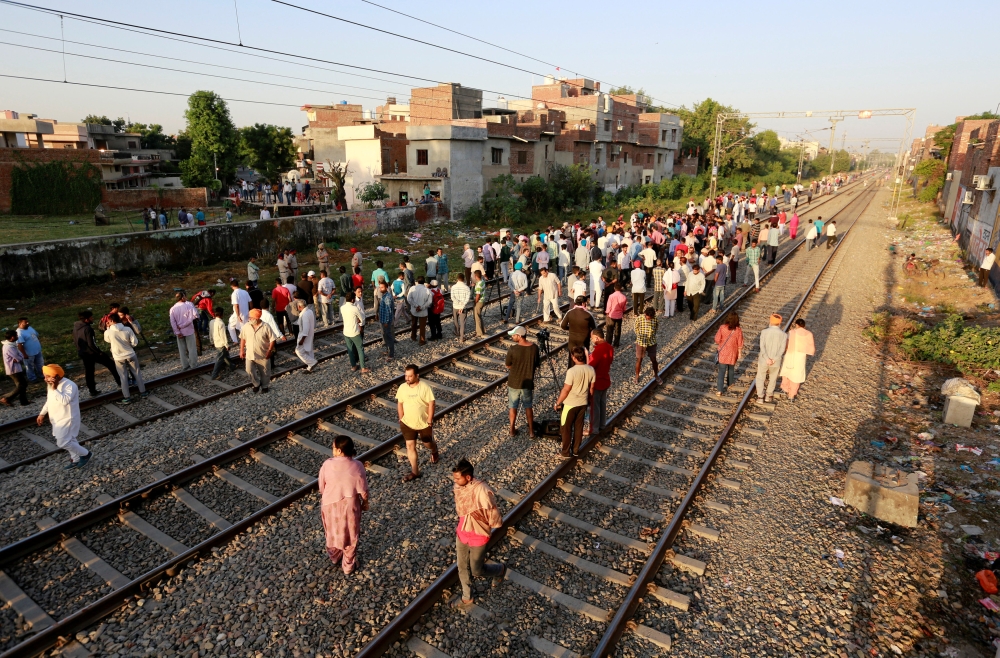 Angry relatives staged a protest Saturday on the tracks where a speeding train ploughed into crowds watching fireworks, killing about 60 people in the latest disaster to bedevil India's railway network.
The Jalandhar-Amritsar express was hurtling at 90 kilometers (55 miles) per hour when it hit scores of people who had gathered on the tracks late Friday to get a view of a firework-packed effigy of the demon king Ravana for a Hindu festival.
Many of the victims were dismembered beyond recognition and police said it would take several days to complete the identification of the dead.
Some desperate families went from hospital to hospital in the northern city of Amritsar on Saturday looking for missing relatives, while the first funerals of some victims were held.
Hardeep Singh, chief medical officer for Amritsar, told AFP 59 deaths had been confirmed and 90 people had been injured, with seven in critical condition.
Singh said only 25 bodies had been identified so far. Amritsar's main hospital did not have enough space in its morgue, and some corpses were laid outside.
The disaster led to new demands for safety reforms to India's accident-plagued railway system, which records thousands of deaths each year.
Sporadic protests broke out near the accident site, with scores of protesters calling for action against the local authorities and the train driver who was questioned by police on Saturday.
But federal junior minister for Indian Railways ruled out any punitive action against his staff, including the driver, saying the national carrier was not at fault.
"There was no lapse on our part and no action against the driver will be initiated," Manoj Sinha told reporters in New Delhi, adding "trains travel in speed only".
- train not heard -
Police moved the protesters off the tracks and brought in reinforcements to control a crowd of hundreds that gathered around the scene of the disaster.
Investigators said victims did not hear the train because the drone of the locomotive was drowned out by firecrackers. Another train had narrowly missed the crowds two minutes earlier, officials said.
According to media reports, the driver told police he did not see the revellers until the last second because he had come around a bend in the dark into the firework smoke.
As the blame game spread, police said they had given permission for the display for the annual Dussehra festival fireworks but that organisers did not have approval from the city, health department and fire brigade.
According to media reports the organisers, members of the ruling Congress party, had gone into hiding.
Federal Railway minister Piyush Goyal returned early from a trip to the United States to go to Amritsar on Saturday.
Punjab chief minister Amarinder Singh called off a trip and rushed to visit the injured in hospital, where he ordered a magisterial inquiry into the incident.
India's huge railway network is notorious for accidents, including scores who die while crossing the tracks illegally or falling off over-capacity trains.
A 2012 government report described the loss of 15,000 passengers to rail accidents every year in India as a "massacre". The government has pledged $137 billion over five years to modernise the crumbling network.
In 1981, seven carriages from a train fell into a river as it crossed a bridge in the eastern state of Bihar, killing between 800 and 1,000 people.
But nearly every month there are accidents involving trains that derail or hit vehicles on crossings. In April, 13 children were killed when a train hit their school bus. In November 2016, the Patna-Indore express derailed in Uttar Pradesh state in the middle of the night, killing 139 people.
Follow Emirates 24|7 on Google News.