Iran bid to close Strait would fail: UK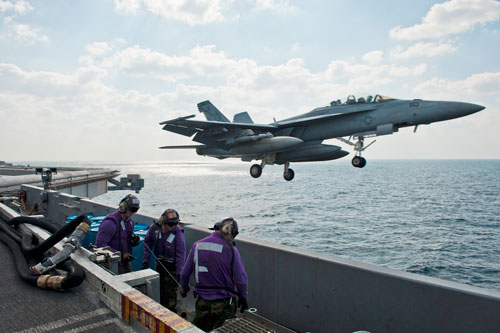 Any attempt by Iran to close the Strait of Hormuz would be illegal and would not succeed, British Defence Secretary Philip Hammond said on Thursday, adding that British naval forces would continue to play a part in maintaining security in the Gulf.
"Disruption to the flow of oil through the Straits of Hormuz would threaten regional and global economic growth," Hammond said in a speech to the Atlantic Council, a US think-tank, during a visit to Washington.
"Any attempt by Iran to close the Straits would be illegal and would be unsuccessful," he said, according to a text of his remarks released in London.
Hammond said Britain's Royal Navy would continue to play a substantial role as part of the Combined Maritime Forces, a US-led, Bahrain-based naval force drawn from 25 nations whose missions include counter-piracy, counter-terrorism and security in the Gulf.
Britain has mine counter-measure vessels maintaining freedom of navigation in the Gulf, he said.
Iran threatened last week to stop the flow of oil through the Strait of Hormuz if foreign sanctions were imposed on its crude exports over its nuclear ambitions, a move that could trigger military conflict with economies dependent on Gulf oil.
Iran wants nuclear talks to resume in Turkey
Iran's foreign minister said Thursday he would like to see talks with world powers on his country's nuclear programme resume in Turkey, but was waiting for a venue and date to be agreed.
"Personally I think that Turkey is the best place for the talks to take place. But it should be at a place of mutual agreement," Ali Akbar Salehi said in a televised joint news conference with visiting Turkish Foreign Minister Ahmet Davutoglu.
Salehi said he had asked EU foreign policy chief Catherine Ashton, who was representing the world powers, to propose a time and place for the talks, when the two met briefly recently in the German city of Bonn.
Ashton's office, however, has said it was still waiting for Iran to formally respond to an October 2011 letter Ashton sent offering to resume the talks, which were suspended a year ago.
Salehi brushed aside that demand, saying Iran's top nuclear negotiator, Saeed Jalili, "has said in the past couple of months that Iran is ready to resume talks."
He added that Ashton had asked Davutoglu if Turkey could host the next meeting between Iran and the so-called 5+1 Group comprising UN permanent Security Council members Britain, China, France, Russia and the United States, plus non-permanent member Germany, and that Davutoglu had agreed.
Iran's position, Salehi said, "is a state of readiness to resume talks."
Davutoglu said in the news conference that he had conveyed Ashton's request for a formal response from Iran.
"We want to see both sides go back to the negotiating table," he said.
Follow Emirates 24|7 on Google News.