Israel, new Egyptian leadership make contact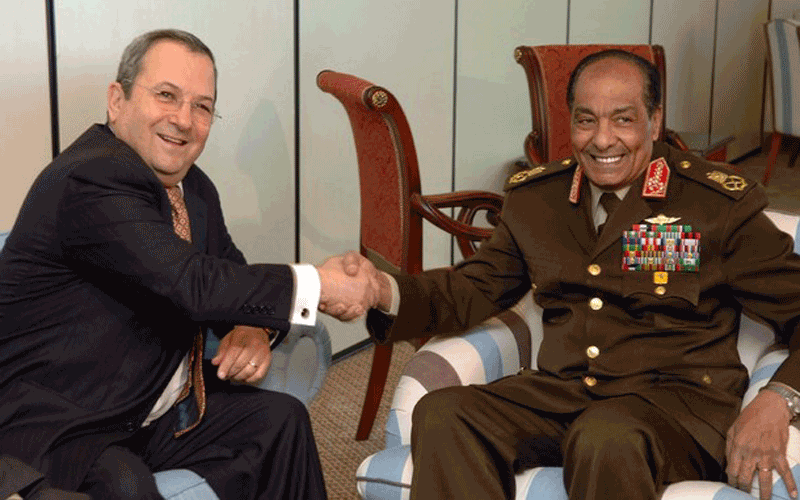 Israel and Egypt's new military rulers have made initial contact and Prime Minister Benjamin Netanyahu on Sunday welcomed their pledge to stand by Cairo's peace treaty with the Jewish state.
Israeli Defence Minister Ehud Barak and Mohamed Hussein Tantawi, head of Egypt's Higher Military Council, spoke by telephone on Saturday, a ministry spokeswoman said, declining to give further details.
In remarks to reporters that echoed a written statement issued on Saturday, Netanyahu voiced satisfaction that Egypt's military leadership had announced it would respect all the country's international treaties.
"The peace agreement was kept by Egypt throughout the years ... it is the cornerstone of peace and stability, not only for the two countries, but for the whole region as well," Netanyahu said at the start of a cabinet meeting in Jerusalem.
In 1979 Egypt became the first Arab country to sign a peace treaty with Israel, which watched warily throughout the weeks of protests that brought down President Hosni Mubarak on Friday.
Saturday's message from Egypt's military leaders appeared to be aimed at soothing concern in Israel and the United States about the US-brokered pact that ended three decades of hostilities.

REVOLUTION
Many analysts foresee a more testy and uncomfortable relationship in the years ahead. Netanyahu cautioned last week an Iranian-style Islamist revolution could take place in Egypt should Mubarak's Muslim Brotherhood rivals eventually take over.
In an editorial, Israel's left-wing newspaper Haaretz said that while "the dramatic change across the border naturally gives rise to fears", Netanyahu's warnings that Egypt "could turn into a new Iran ... merely create destructive tension".
"The revolution in Egypt did not stem from the ties with Israel, and Netanyahu would do well to keep quiet and give this neighbouring country a chance to establish a democracy," it said.
In the occupied West Bank, Saeb Erekat, who resigned on Saturday as chief Palestinian negotiator over documents he said were stolen from his office and published in the media, urged Israel not to fear democracy in Egypt.
"I believe Egypt will mark a turning point in the Arab world ... anybody who says Arabs aren't ready for democracy is a racist," Erekat said on Israel Army Radio.
"Democracy is the main support system for peace, Israel should not be afraid of democracy."
Events in Egypt were likely to top the agenda at talks Netanyahu was due to hold on Monday with Admiral Mike Mullen, chairman of the US Joint Chiefs of Staff, who was dispatched by Washington to Israel and Jordan, another US ally.
Captain John Kirby, a senior aide to Mullen, told Reuters the top US military officer wished to affirm Washington's commitment to its military relationship with Israel at a critical time in the Middle East.
Follow Emirates 24|7 on Google News.