Israel restricts access to Al Aqsa mosque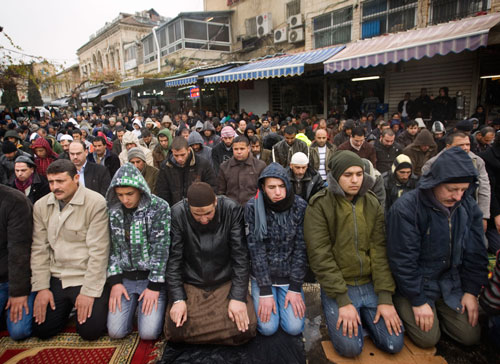 Access to Al Aqsa mosque compound was restricted on Friday in a bid prevent demonstrations in support of the Egyptian uprising after Muslim prayers, police said.
"This Friday, we are forbidding access to the compound to men under 50 years old carrying an Israeli identity card," police spokesman Micky Rosenfeld told AFP.
The directive concerned Israeli-Arabs or Palestinians living in annexed east Jerusalem, he said.
All Palestinians from the occupied West Bank were barred, even if they had Israeli papers.
Only 6,000 faithful were able to participate in the prayers as a result of the measures, the Islamic Waqf endowment told AFP.
Rosenfeld said police had reinforced positions in the walled Old City, amid concerns violent demonstrations would be staged after Friday prayers in a show of solidarity with the popular uprising in Egypt.
But only sporadic incidents were reported in the neighbourhood of Ras Al-Amoud, where young people threw stones at police who responded with tear gas, AFP correspondents said.
The compound contains the Al Aqsa Mosque and the Dome of the Rock and is the third holiest site in Islam after Makkah and Madina.
Follow Emirates 24|7 on Google News.