Khamenei calls for Islamic regime in Egypt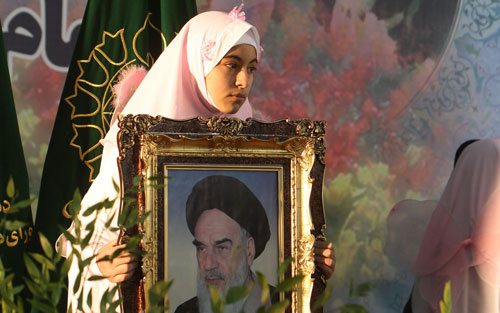 Iran's supreme leader Ayatollah Ali Khamenei on Friday urged Egyptians to set up an Islamic regime in their country as he lashed out at embattled Egyptian President Hosni Mubarak.
"Do not back down until the implementation of a popular regime based on religion," Khamenei said in Arabic as part of his Friday sermon directed at Egyptians.
"The clergy should play a role for example when people come out of mosques and chant slogans they should support. Insha Allah (God willing) part of the Egyptian army will join the people," he said, adding that the "main enemy of the Egyptian army is Zionist regime and not the people."
He termed an "Islamic liberation movement" in the Arab world, and advised the people of Egypt and Tunisia to unite around their religion and against the West.
"The awakening of the Islamic Egyptian people is an Islamic liberation movement and I, in the name of the Iranian government, salute the Egyptian people and the Tunisian people," Ayatollah Ali Khamenei told worshippers at Friday prayers in Tehran which were broadcast on television.
Khamenei said in his Friday prayer sermon that embattled Egyptian President Hosni Mubarak is a "servant" of Israel and the United States.
"For 30 years this country (Egypt) has been in the hands of someone who is not seeking freedom and is the enemy of those seeking freedom," Khamenei said.
"Not only he is not anti-Zionist, but he is the companion, colleague, confidant and servant of Zionists. It is a fact that Hosni Mubarak's servitude to America has been unable to take Egypt one step towards prosperity."
Khamenei, Iran's spiritual guide, said Israel was the country most concerned about the Arab revolts.
"Today more than the fleeing Tunisian and Egyptian officials, Israelis and the Zionist enemies are the most worried about these events as they know if Egypt stops being their ally and take its rightful place, it would be a great event in the region," he said.
Follow Emirates 24|7 on Google News.