Kodak files for bankruptcy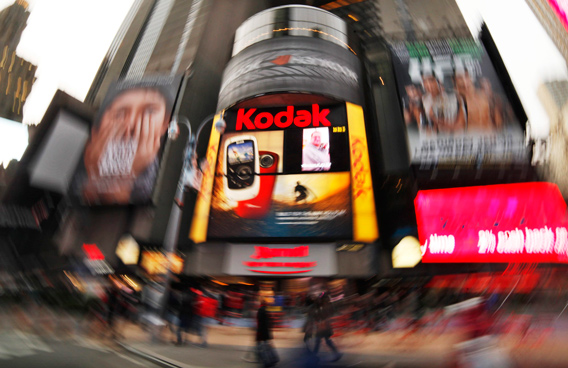 Eastman Kodak Co, which invented the hand-held camera and helped bring the world the first pictures from the moon, has filed for bankruptcy protection, capping a prolonged plunge for what remains one of America's best-known companies.

The 130-year-old photographic film pioneer, which had tried to restructure to become a seller of consumer products like cameras, said it had also obtained a $950 million, 18-month credit facility from Citigroup to keep it going.

"The board of directors and the entire senior management team unanimously believe that this is a necessary step and the right thing to do for the future of Kodak," Chairman and Chief Executive Antonio M. Perez said in a statement.

Kodak said that it and its U.S. subsidiaries had filed for Chapter 11 business reorganization in the U.S. Bankruptcy Court for the Southern District of New York. Non-U.S. subsidiaries were not covered by the filing, it added.

Kodak once dominated its industry and its film was the subject of a popular Paul Simon song, but it failed to quickly embrace more modern technologies such as the digital camera - ironically, a product it even invented.

Its downfall has already hit its Rust Belt hometown of Rochester, New York, with employment there falling to about 7,000 from more than 60,000 in Kodak's halcyon days.

In recent years, Chief Executive Perez has steered Kodak's focus more toward consumer and commercial printers.

But that failed to restore annual profitability, something Kodak has not seen since 2007, or arrest a cash drain that has made it difficult for Kodak to meet its substantial pension and other benefits obligations to its workers and retirees.

Perez said bankruptcy protection would enable Kodak to continue to work to maximize the value of its technology assets, such as digital-imaging patents it licenses for use in mobile and other devices and its printing technology.

Kodak said it was being advised by investment bank Lazard Ltd, which has been helping Kodak look for a buyer for its 1,100 digital patents.

Other advisers included business-turnaround specialist FTI Consulting Inc, whose vice chairman, Dominic DiNapoli, would serve as chief restructuring officer for Kodak, supporting existing management.
Kodak files for Ch. 11 bankruptcy protection
Photography icon Eastman Kodak has filed for Chapter 11 bankruptcy protection, as it seeks to boost its cash position and stay in business.

The move comes as the ailing company has failed to find a buyer for its trove of 1,100 digital imaging patents. Kodak said in November that it could run out of cash in a year if it didn't sell the patents, for which it hoped to fetch billions. Eastman Kodak Co. said early Thursday that it has secured $950 million in financing from Citigroup Inc., and expects to be able to operate its business during bankruptcy reorganization and pay employees.

The Rochester, N.Y.-based company was pummeled by foreign competition and then severely shaken by the digital revolution. It has invested huge sums in new lines of inkjet printers.
Follow Emirates 24|7 on Google News.