Libya at 'crossroads' of democracy, civil war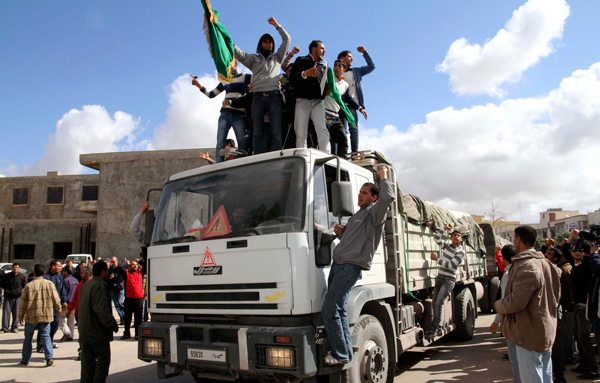 Warning that Libya is at the crossroads of peaceful democracy and civil war, the United States vowed Tuesday to press leader Moamer Kadhafi to quit by squeezing him economically and militarily.
However, US defense leaders said imposing a no-fly zone over Libya would be "extraordinarily" complex and NATO allies have yet to agree on any military intervention in the crisis.
Kadhafi has been fighting a bloody rearguard action against a pro-democracy uprising now in its third week, with at least 1,000 people reported killed and 100,000 people fleeing to neighboring Egypt and Tunisia.
"In the years ahead, Libya could become a peaceful democracy, or it could face protracted civil war, or it could descend into chaos," US Secretary of State Hillary told the House Foreign Affairs Committee.
"The stakes are high."
Kadhafi's son Saif al-Islam said last week that Libya faces civil war and "rivers of blood."
Kadhafi is defiant about staying in power, though his regime now controls only some western areas around the capital and a few longtime bastions in the arid south. Key oil fields in the east have fallen to the opposition.
Countering reporters suggestions that Kadhafi retained a firm grip on power, White House spokesman Jay Carney said nobody could have predicted a few weeks ago that he would have lost "great swaths of the country" to the opposition.
Nor would anyone have guessed then that "the entire international community, including Arab nations," would line up against him, he said.
"The speed, the momentum, has been almost blinding, in terms of what we've seen in the region and in Libya specifically," Carney said.
Clinton said Washington understands the Libyan opposition wants to "be seen as doing this by themselves" as they mull ways to dislodge Kadhafi and his forces from the capital Tripoli and the few other areas they hold.
But she said the Pentagon and NATO allies have "begun to look at potential planning, preparedness in the event that we feel it's necessary for both humanitarian and other reasons that there would have to be actions taken."
She said "one of those actions that is under review is a no-fly zone," where Libyan warplanes and helicopters would be grounded by US and allied military force to prevent them from attacking the Libyan people.
But there were also doubts about such action.
"There is no unanimity within NATO for the use of armed force," Defense Secretary Robert Gates said in a joint press conference with the US military's top officer, Admiral Mike Mullen.
As for a no-fly zone, Mullen said "it's an extraordinarily complex operation to set up."
The four-star admiral agreed with an assessment voiced earlier by the head of US Central Command, General James Mattis, who said that enforcing a no-fly zone would require first bombing radar and missile defenses in Libya.
Gates confirmed he had approved the deployment of several ships, including the USS Kearsarge amphibious assault ship, to sail towards Libya, with the Kearsarge due to pass through the Suez Canal from the Red Sea "shortly."
But he said any intervention beyond humanitarian assistance would have to take into account the effect on the US-led war effort in Afghanistan and likely hostile perceptions in the region of US military action.
Susan Rice, the US ambassador to the United Nations, earlier told NBC television "we are going to squeeze him (Kadhafi) economically in conjunction with the rest of the economic community. We'll squeeze him militarily."
In a similar interview with ABC television, Rice highlighted economic sanctions adopted by the European Union as well as the US seizure of ê30 billion in Kadhafi related assets.
"We're going to keep the pressure on Kadhafi until he steps down and allows people to express themselves freely and determine their own future," Rice said.
When Rice mentioned military pressure, it was not clear whether she was referring to a no-fly zone or something else.
As part of sanctions packages, both the European Union and the UN Security Council have decided to slap arms embargoes on Libya. The deployment of US warships could also be seen as a show of force.
Top US senators meanwhile expressed doubts about calls to actually arm Libya's opposition and said they needed more details about the goals and dangers of any no-fly zone.
Follow Emirates 24|7 on Google News.