Libya rebels breach Brega: spokesman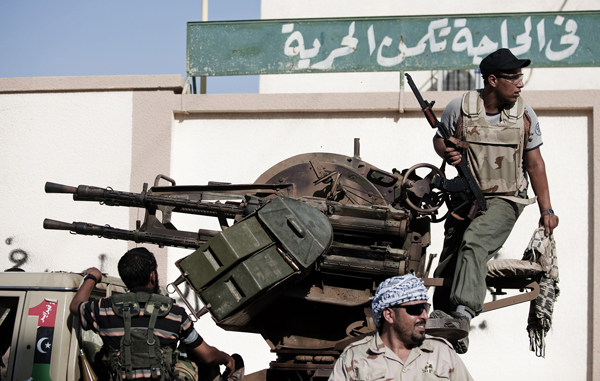 Libya's rebels said a light mobile force had breached the strategically vital oil town of Brega late Friday, before pulling back in anticipation of a renewed offensive at daybreak.
Mohammed Zawi, a spokesman for the rebel army, told AFP a group of reconnaissance troops had entered the city from the north, then pulled back four kilometres (2.5 miles) before midnight (2200 GMT).
The probing raid deep into Kadhafi-held territory came around 32 hours after the rebel command launched a three-pronged attack to wrest control of the town back from Moamer Kadhafi's troops, who were thought to have numbered around 3,000.
While the rebels' forward position to the north was four kilometres from the town centre, a second unit attacking from due east of Brega faced stiffer resistance and was about 10-20 kilometres (six to 12 miles) from the town.
"Most of Kadhafi's troops seem to be at the centre," said Zawi.
Rebels were trying to dispose of more than 100 landmines placed around the town, to make way for heavy artillery.
Earlier the rebels said radio chatter from Kadhafi's forces in the north showed them asking for reinforcements and for medics to come and collect the dead and wounded.
To the south of the town, where the rebels had made initial gains but suffered large numbers of casualties, Kadhafi forces had pushed back harder.
With fighting in the dusty and windy desert terrain difficult, Zawi said he expected fighters on both sides to dig in for the night and for clashes to slow.
"Tomorrow we can take Brega, God willing," he said.
Brega, nestled at the southeastern tip of the Gulf of Sirte, has changed hands multiple times during Libya's civil war, which soon enters its fifth month.
In recent weeks the rebels have been holed up at a forward position 40 kilometres (25 miles) from both Brega and Ajdabiya, inching forward and clearing mines so their handful of T-72 tanks and infantry fighting vehicles can have a freer rein.
Few civilians are thought to be left inside the town.
Brega's vast oil refinery and storage facilities if intact -- could provide fuel and a much-needed income stream for the rebels.
A victory would also provide a major boost for rebel morale, which had been sagging amid months of stalemate.
But the gambit came at a bloody price.
In Ajdabiya, ambulances and pickup trucks arrived in waves at the crossroads town's hospital, bringing in at least three dead rebel fighters and more than 73 wounded.
The majority of rebels at the hospital were being treated for burns and wounds caused by shrapnel from heavy artillery, an AFP reporter at the scene said.
The wounded and their fellow fighters said much of the damage had been done by Grad and mini-Grad rockets.
The testimony of both rebel fighters and medical officials suggested the bloodiest fighting was taking place past the half-way point between the two towns, south of the main desert road.
The rebels began the first stages of their offensive on Brega on Thursday, hoping to dislodge loyalist troops and win a key strategic victory against the Kadhafi regime.
The wounded began arriving soon after.
One of the first was a heavy-set man who could be heard crying hysterically: "I cannot see anything, I cannot see anything. What is wrong with my eyes?"
A dozen doctors worked to keep up with the flow, despite the lack of morphine and other basic supplies. When stabilised, many of the wounded were taken to Benghazi, Libya's second city, making room for fresh arrivals.
But for some there was nothing the doctors could do.
One of the fighters was brought in splayed on the flat bed of a pickup truck, his entrails dripping from a large open wound to the back.
He was wheeled back out shortly afterwards, his head covered in a medical gown.
Follow Emirates 24|7 on Google News.