Macron hosts 140 CEOs in pre-Davos charm offensive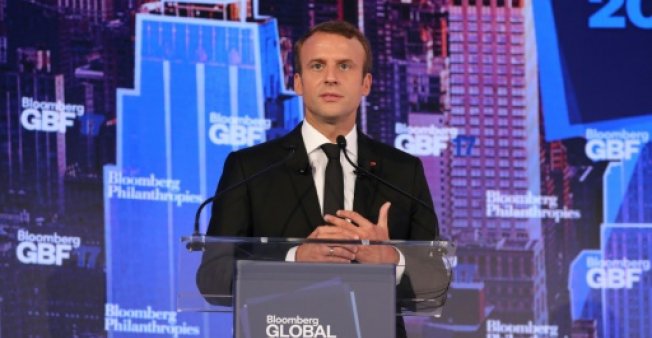 President Emmanuel Macron's campaign for a "French Renaissance" kicks into overdrive Monday as he welcomes 140 multinational business leaders before this week's jamboree of the rich and powerful in Davos.
The business-friendly president will host executives at the grand Versailles chateau near Paris for an event billed as a warm-up for Tuesday's opening of the World Economic Forum in the Swiss mountains.
Several firms will use the conference to announce major French investments, with Facebook revealing early Monday that it will pour an extra 10 million euros ($12.2 million) into its artificial intelligence centre in Paris.

Japan's Toyota is also due to reveal details of its 400 million euro ($490 million) enlargement of its Onnaing car factory in northern France, with Les Echos newspaper reporting the move will bring 700 new jobs.
A former investment banker, Macron has vowed to shake the French economy out of its torpor with corporate tax cuts and reforms to the country' famously rigid labour laws.
Economic growth has been forecast to remain at a relatively weak 1.7 percent for both 2017 and 2018, although figures have been ticking up in recent months.
A survey by the US Chamber of Commerce and consultancy Bain & Company in November found a record 72 percent of US investors were optimistic about the French economy, a huge hike against 30 percent in 2016.
- 'Choose France' -
Macron's predecessors have held similar gatherings of CEOs, but the scale of his "Choose France" conference goes far beyond those hosted by Francois Hollande or Nicolas Sarkozy.
The Socialist Hollande hosted 34 world business leaders in 2014, while rightwinger Sarkozy rolled out the red carpet for 25 in 2011.
"We've taken advantage of the fact that economic leaders are coming to Europe by inviting 100 CEOs of the biggest world companies and developing 100 projects with them for France," the presidency said.
Macron will be flanked by 15 ministers at the conference, which comes the night before leaders from 60 countries and 1,700 businesses start descending on Davos for the world's most exclusive talking shop.
The French president himself takes to the stage in Davos on Wednesday, where he is set to cut a contrasting figure with that of US President Donald Trump.
While Trump campaigned on an anti-elitist platform that railed against globalisation, Macron has defended globalisation, though he will call for a more balanced form of it in his Davos speech.
The 40-year-old centrist has been carving out an active role on the world stage since winning the French presidency last May, and will use his speech to "propose his international vision for the world of tomorrow", his team said.
The speech will touch on three major challenges, according to Macron's office: growing inequality, the need for better environmental protection, and global governance in the face of nationalism and extremism.
He is due to speak the same day as German Chancellor Angela Merkel and two days before Trump -- although officials have warned that the US government shutdown could scupper the president's plans to attend.
Follow Emirates 24|7 on Google News.