Mixed village in Cyprus buffer zone looks to offer hope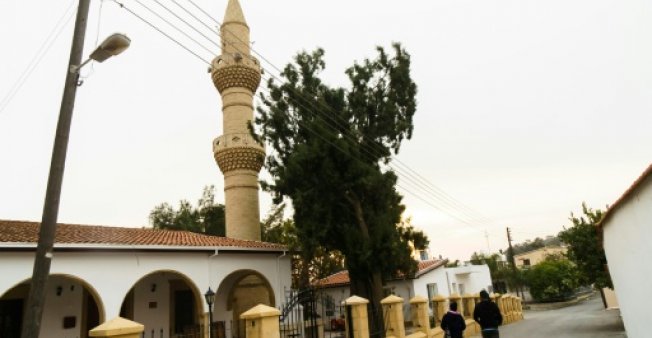 Two village leaders, a mosque, Orthodox churches and the UN: welcome to Pyla, one of the few places on the divided island of Cyprus where Greek and Turkish Cypriots live side by side.
Nestled in the UN-patrolled buffer zone that slices between the internationally-recognised Republic of Cyprus and a breakaway Turkish Cypriot statelet in the north, locals in Pyla are constantly reminded of the 44-year division of their homeland.
But as Cyprus gears up for a presidential vote on Sunday that could determine if it makes another push to reunify, residents of Pyla say they want their peaceful cohabitation to serve as an example.
"Pyla is the only place in the buffer zone where the two communities live together," Greek Cypriot mayor Simos Mytides told AFP.
"This itself is something to feel proud of."
When Turkey's invasion of Cyprus split the island in 1974, some 200,000 people were forced from their homes as the population separated along ethnic lines.
But along the frontline, Pyla remained an exception as the original villagers stayed put.
- 'Like in a cocoon' -
The village of around 1,800 inhabitants close to the island's southeast coast is legally administered by the Republic of Cyprus but policed by UN peacekeepers.
Signs in the streets are written in Greek and Turkish and the two languages can be heard.
Each year, the Greek Cypriot mayor and his Turkish Cypriot counterpart organise festivals to bring their two communities together.
"We live here like in a cocoon," said Turkish Cypriot resident Mehmet Pasha, 50, the village sports club owner who has set up an intercommunal rugby team.
"What happens outside in terms of politics doesn't really affect us on a political level."
Last year, peace talks to reunify the island came closer than ever to reaching an elusive solution but collapsed in acrimony short of the finishing line.
"The failure of the peace talks has not had a negative impact on us," said Turkish Cypriot student Baris Alibeyoglu.
"We continue to have warm relations between neighbours, to exchange traditional dishes during religious holidays."
In a rare exception, the roughly 600 Turkish Cypriot residents of the village also have the right to vote in the Greek Cypriot presidential election on January 28.
President Nicos Anastasiades is tipped to win a second term with a pledge to restart negotiations.
In a sign of Pyla's symbolic value, a pro-settlement left-wing candidate, Stavros Malas, visited the village on his campaign trail.
"I talked to him. I was happy that a Greek Cypriot candidate came here to introduce himself," said Alibeyoglu.

"Since then I have been trying to follow the campaign as much as possible and intend to vote."
- 'No need for UN' -
On the village square, elderly men play backgammon and cards in the Greek Cypriot community's cafe, which sits adjacent to a Turkish Cypriot coffeeshop.
Outside, the white trucks of the UN security patrol drive through the streets.
"Why do they have to guarantee anything? We do not need them to be at peace," said Tassos Sotiriou, 76, pointing to light blue banner flying over a UN observation post.
"I feel like a prisoner in the very place where I was born."
The retired painter and decorator, with a thin white moustache and bright eyes, accuses international powers Britain and the United States of perpetuating the division.
But he remains hopeful to one day see his homeland reunified.
"Back in the day, Cyprus was a paradise, you could not tell who was Muslim, Orthodox, Greek or Turkish," he said. "Most villages were like Pyla."
Follow Emirates 24|7 on Google News.