Mubarak defence challenges death penalty call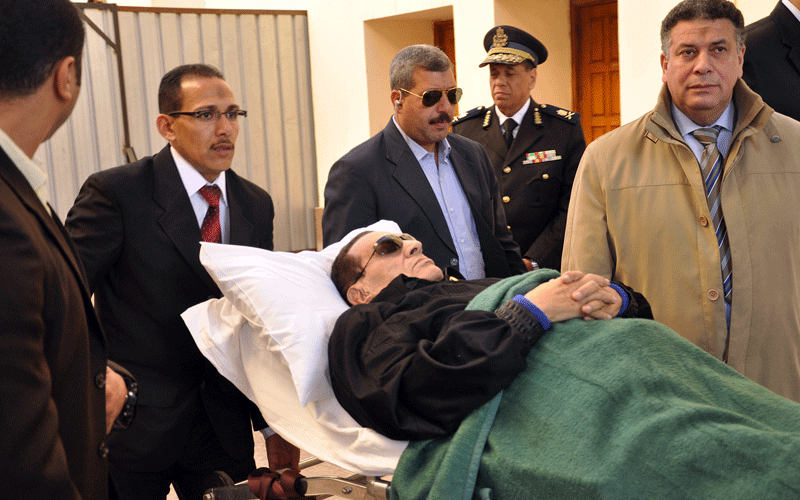 Hosni Mubarak was wheeled into court Tuesday as his defence began a five-day challenge to calls by the prosecution for the former Egyptian president to be hanged for the deaths of democracy protesters.
Egyptian television showed Mubarak, his eyes shielded by dark sunglasses, lying on a stretcher and under a blanket being pushed into the court where it said the trial got underway shortly after 10:00 am (0800 GMT)
The defence team headed by attorney Farid al-Deeb said it requested five days to challenge a call for the execution of Mubarak who was ousted from power in February last year after an 18-day popular revolt.
Chief prosecutor Mustafa Suleiman said at a previous hearing the ailing 83-year-old Mubarak must have ordered police to open fire on protesters during violence which left more than 850 people dead.
Mubarak "must have agreed on the killings," Suleiman told the court on January 5, explaining that co-defendant and former interior minister Habib al-Adly would have given the orders to police commanders to fire on protesters.
Six senior Adly aides are also being tried in the case while Mubarak's two sons, Gamal and Alaa, are on trial with their father on separate charges of corruption in the same court.
Mubarak's lawyer told the independent Al-Masry Al-Youm newspaper that he had "asked that five sessions be allocated to the defence because of the importance of the case."
Deeb denied newspaper reports that Gamal Mubarak and his mother Suzanne gave him instructions on how to present his case.
"No one knows what I will say in court. It is true that I met with them but it was only to obtain clarifications concerning some points and to see if they had certain documents."
Deeb refused to reveal his strategy and was quoted as saying by the government newspaper Al-Akhbar that he "does not have a magic wand, nor surprises to offer" and would present his defence "in line with the law."
The flagship government daily Al-Ahram said on Monday that Deeb would make stunning revelations and predicted that Tuesday's hearing and those that follow will be heated.
Deeb meanwhile told Al-Masry Al-Youm that Kuwaiti lawyers were among several attorneys who had joined the defence team but would not take an active part in arguing the case.
"There are many lawyers, including Kuwaitis, who support Mubarak and we welcome all of them but the defence is ours alone with no interference from them."
The defence lawyer insisted that Mubarak must lie on a hospital bed throughout the trial and not sit on a chair as he did during the last hearing.
"His hospital bed is equipped in case he suffers another stroke. If he sits on a chair, saving him will be difficult," Deeb is quoted as saying by Al-Masry Al-Youm.
Mubarak is being treated in a military hospital for a heart condition. His trial opened on August 3, after protesters stepped up demonstrations calling on the ruling military to try him and ex-regime officials.
A medical source quoted by Al-Masry Al-Youm said Mubarak is in no condition to be carried to court every day, and expected he would miss some sessions.
Last week the presiding judge, Ahmed Refaat, said the defence team would have 25 sessions in all to wrap up their case.
The first five days that begin on Tuesday would be devoted to defending Mubarak and his sons, and the remainder for lawyers representing Adly and the other top officers.
The last hearing is set for February 16.
The court is then expected to recess for deliberation after which the judge will set a date for the verdict.
Follow Emirates 24|7 on Google News.