Mubarak's effigy hanged from Cairo street lights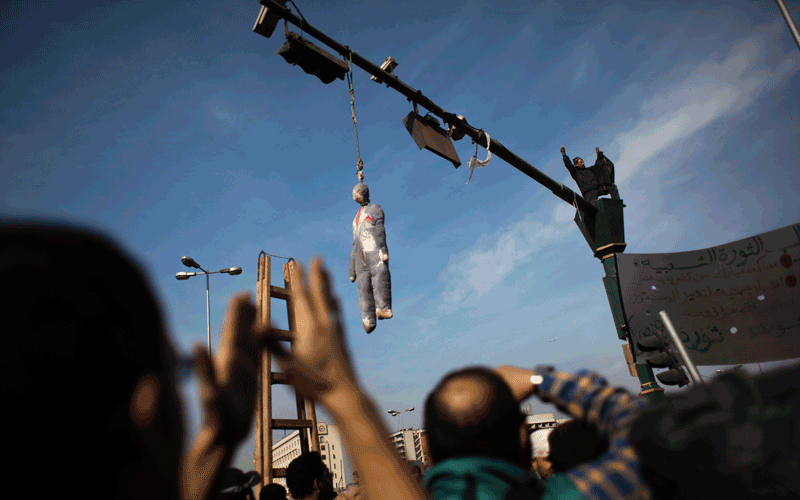 "I will stay here till I die," said Osama Allam as the grey Cairo dawn lifted on the biggest day of anger yet against the regime of President Hosni Mubarak, whose effigy hangs from nearby traffic lights.
Encircled by tanks and with troops filtering protesters streaming onto the square that has become the epicentre of a week of revolt, men, women and children brandish banners and cardboard signs demanding Mubarak go.
"Choose Mubarak regime or Egypt people," read one sign in English as protesters nearby carry Mubarak's mock coffin shoulder-high. Elsewhere on the square people chant slogans against Mubarak's wife, Suzanne.
"We just want to be able to speak and to be heard. We want freedom and democracy," said lawyer Allam, with Cairo and Alexandria braced for 'marches of a million' despite the authorities shutting roads and stopping trains.
Citizens sweep rubbish from the square that has seen tens of thousands protest daily while others shout Mubarak insults at an army helicopter circling overhead and children playfully perform mock military drills.
The early morning scene resembles the morning after at Woodstock, with dozens of tents sprung up around the vast square and exhausted protesters lying prone on patches of grass.
But the sleepy atmosphere soon evaporates as thousands more resolute citizens pour into the square, shouting their anger.
Abdo, a 65-year-old carpenter wearing the traditional Egyptian galabeya gown, wants his voice to be heard.
"I need to work every day to live but I left my family and work to be here, I came here to say 'no, enough'."
Protesters read the revolt's demands, daubed in large letters on a banner strung between lamp-posts.
"The immediate end to Mubarak's rule; the trial of (former interior minister) Habib Al Adly; the establishment of a commission to amend the constitution; the dissolution of parliament and the formation of a transitional national salvation government."
With at least 125 people dead in eight days of clashes between angry citizens and police, the crowd knows that more blood may be shed before their objectives are achieved.
"If I die now my whole family will be proud of me. This is what the Egyptian people need," said Allam, but no one thinks the threat comes from the all-powerful armed forces.
"The people are the army and the army is the people," he said.
An elderly Egyptian who asked not to be named said there were rumours police would don army uniforms and move in.
"They will kill a lot of people. You have to tell people about this, it has to be stopped, in the name of democracy."
Many here say only foreign pressure can force Mubarak to admit defeat.
"The ball is in American and European hands," said Allam. "We don't want you to do anything for us, but don't do anything for him (Mubarak) either. Obama should say 'we are with the Egyptian people, we are with democracy'."
Protesters are keen to dispel fears raised by some Western nations and Israel that the Islamist Muslim Brotherhood could try to move to fill a post-Mubarak power vacuum.
"Only one in 100 here is a Muslim Brother," said Mohammed Suleiman.
"Mubarak made the US and Europe afraid of the Muslim Brotherhood, he made them think they will take power but this is not true."
They also dismiss rightwing Israeli Prime Minister Benjamim Netanyahu's assertion that Egypt could turn into an Iranian-style Islamist regime.
"Israel is not Benjamin Netanyahu," said one unnamed protester. "The Israeli people are like the Egyptian people, we want peace and freedom.
"We have no problem with any country in the world. We are not dangerous to Israel, Mubarak is dangerous to Israel. It's shameful for the US to support Mubarak, he's a fascist, if he stays the whole world will suffer."
Follow Emirates 24|7 on Google News.