Mubarak still rules Egypt: Defence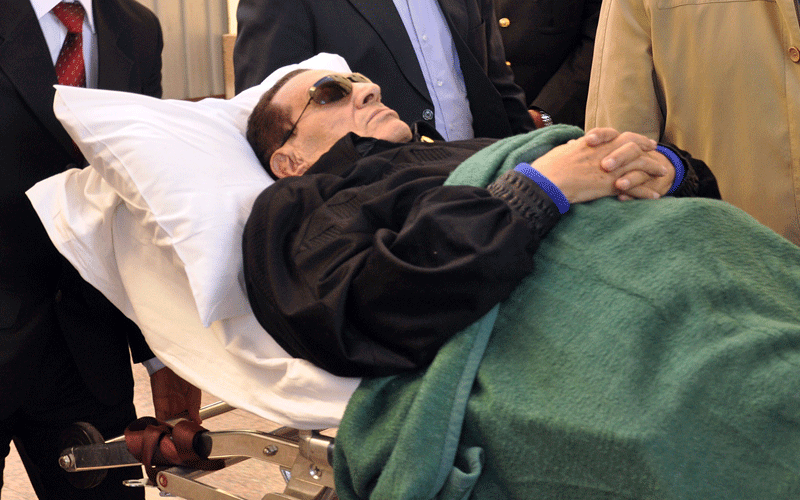 Hosni Mubarak is still the president of Egypt and the court trying him has no legal jurisdiction to do so, his defence lawyer said on Sunday, trying to undermine the prosecution's case against the leader deposed in a popular revolt last year.
Lawyer Farid el-Deeb was defending Mubarak for the fifth and final day of a trial that Egyptians who rose up against Mubarak's 30-year-rule hope will bring justice. The prosecution is seeking the death sentence on a charge that Mubarak was involved in the killing of some 850 protesters in the uprising.
Mubarak's defence has denied those charges and attacked the prosecution's case on other charges of corruption and abuse of power. Many Egyptians who want to see Mubarak held to account worry the case is not as strong as it should be.
A light sentence or an acquittal may fuel more rage and is likely to lead to street protests. Activists are calling for mass demonstrations on Jan. 25, the anniversary of the uprising.
"Is Hosni Mubarak still the president? I say yes. In accordance with the constitution, he is still the president until this day," Deeb said to applause and chants of "God is Greatest" among the defence team.
"We have a clear constitutional article that stipulates that the president of the state is to be tried by a special court."
Citing texts from the 1971 constitution, Deeb said the president can only be referred to trial by two-thirds of parliament and that only a special tribunal can try him.
"Any law that contradicts that article is over-ruled," Deeb said, as the security officers who filled up the court room, looked at each other in amusement and shock.

COURT IS NOT ENTITLED
Mubarak's defence told the court, as plaintiffs interrupted with verbal objections and others walked out, that Mubarak did not step down from office in accordance with the constitution. He would have had to send a written resignation to parliament.
Instead, his deputy read out a televised statement in which he avoided the word "resignation" and said Mubarak was "handing power" to the Supreme Military Council, a group of army generals who have ruled Egypt since Feb. 11.
"There is no such thing as a president of a state resigning just by informing his vice president," Deeb said, raising the pitch of his voice and flaring his arms in the direction of the cage where Mubarak and other defendants were.
Some of the lawyers representing about 850 protesters killed during the uprising yelled "this is a revolution!".
"Based on this fact, all the investigations and the referral to court is void and this court is not entitled to hear this case," Deeb said.
"I call for a verdict in which this court says it is not entitled to hear the case," he added, calling for a prelimenary innocent verdict to release the defendants.
As in previous sessions, the 83-year-old Mubarak was wheeled into the courtroom on a hospital trolley. The former air force commander listened to the defence, alongside him his two sons who are standing trial on charges of corruption, his former interior minister and other senior officers.
Broadcast live in its early stages, the trial mesmerised millions of Arabs. Mubarak is the first Arab leader toppled in a wave of protests to appear in court in person.
"Mubarak, I tell you, as you are surprised by the betrayal... do not despair as you hear and listen to your sons, your people, your brothers, turning on you," Deeb said.
"You who have carried Egypt on your shoulders when you fought for Egypt and for the Egyptian people," he added.
As security officers and defence lawyers applauded, plaintiffs responded with chants of "down with Hosni Mubarak".
The presiding judge suspended the trial until Monday, closing up his notes and leaving the room. The judge has given the defence until Feb. 16 to make their case.
Mubarak's defence has said his accusers have no evidence that he ordered the killing of protesters and pointed out irregularities in their investigations.
Follow Emirates 24|7 on Google News.