Nigerian cities in lockdown after emergency decree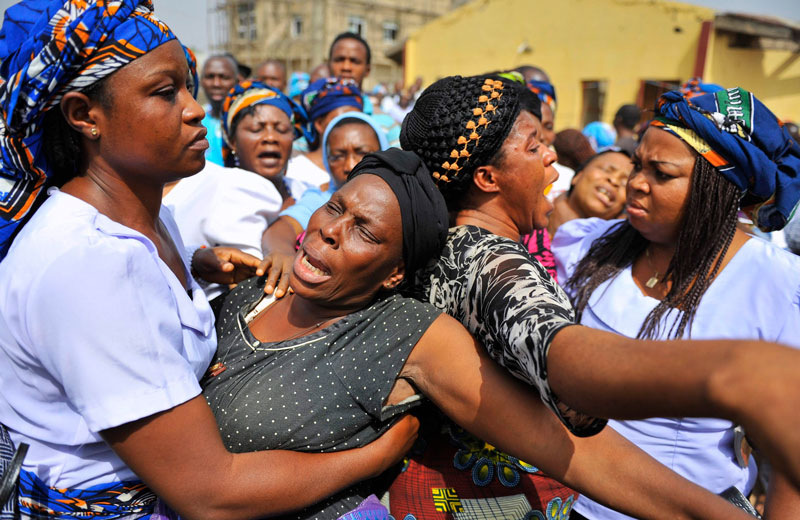 Nigeria began the new year on Sunday under a state of emergency in areas targeted by Islamist attacks as soldiers flooded hard-hit cities in a bid to end spiralling violence in Africa's most populous nation.
Residents in the northeastern city of Maiduguri reported a sharp increase in patrols and checkpoints, with soldiers in pickup trucks and armed with rifles stopping vehicles and forcing drivers to exit while also questioning them.
In the central city of Jos, security agents took over local government headquarters and two helicopters hovered overhead, while intensified patrols occurred on the ground.
President Goodluck Jonathan's declaration on Saturday gives security agencies more powers to search and arrest, seals off borders in hard-hit areas and establishes a military counter-terrorism force.
The declaration comes in response to scores of attacks blamed on Islamist group Boko Haram, particularly a wave of bombings on Christmas that killed 49 people, most in a gruesome blast at a Catholic church as services were ending.
In declaring the state of emergency in Africa's largest oil producer, Jonathan acknowledged that the attacks "have threatened our collective security and shaken the foundations of our corporate existence as a nation."
Jonathan said in a nationwide broadcast that "it has become imperative to take some decisive measures necessary to restore normalcy in the country especially within the affected communities."
"Consequently, I have... declared a state of emergency in the following parts of the federation," he said, listing parts of the states of Borno, where Boko Haram traditionally has its base, as well as Yobe, Niger and Plateau.
In a sign of the challenges facing Nigeria, some 50 people were killed in clashes between two neighbouring communities in southeastern Ebonyi state on Saturday, a government spokesman said, but the clashes were not linked to attacks by Boko Haram, he added.
Earlier Saturday, Jonathan visited the church where the bloodiest Christmas attack occurred and branded Boko Haram a "cancerous" group bent on destroying Nigeria while vowing it would be crushed.
The measures and rhetoric marked a sharp change for Jonathan, who has come under mounting criticism over the authorities' failure to stop the violence.
Many of his previous pronouncements sought to minimise the attacks and reassure the country that the violence was only temporary and would soon be brought to an end despite near daily shootings and bombings.
While some welcomed the declaration, others raised concerns that it would provide legal cover for soldiers to carry out further abuses.
A military task force in Borno state has been accused in recent months of killing civilians and burning homes after bomb attacks, claiming residents collaborated with the extremists.
"The declaration of a state of emergency by the federal government will not stop or reduce the spate of violence across the affected areas, but will simply be a blank cheque for human rights violations by security agents," said northern-based rights activist Shehu Sani.
"Civilians will continue to be at the mercy of the military and the militants. Dialogue still remains the valid option to end this bloodletting."

Follow Emirates 24|7 on Google News.