No hope for survivors; Concordia captain under house arrest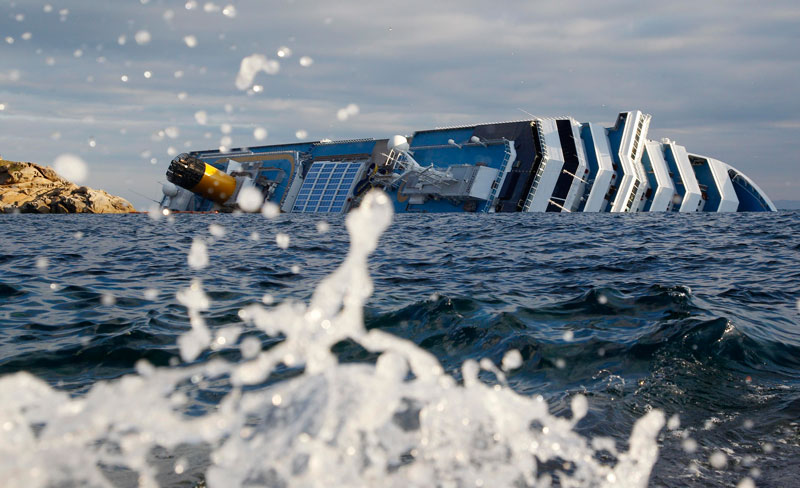 Divers searching the capsized Italian cruise liner Costa Concordia suspended work on Wednesday after the vast wreck shifted slightly but officials said they are hoping to resume as soon as possible.
Five days after the 114,500 tonne cruise ship struck a rock and capsized off the Tuscan island of Giglio, hopes of finding anyone alive have all but disappeared and salvage experts are preparing to pump 2,300 tonnes of fuel from the hulk.
The ship's captain, Francesco Schettino, blamed for causing the accident by coming too close to shore and then abandoning the vessel before the evacuation was complete, was put under house arrest on Tuesday after being questioned by a judge.
The search continued overnight on sections above the water line but and until the order was given to suspend work, divers had been preparing to resume the difficult and dangerous search of partly submerged areas of the giant ship.
"The visibility is awful. Yesterday I couldn't see my hand in front of my face," said Giuseppe Minciotti, director of a school for cave divers in the northern city of Verona and part of the specialist team deployed on the wreck.
"I grabbed a piece of floating debris, and I couldn't see what it was until I had my head out of the water. It was a woman's shoe," he said. "We're waiting today for new openings to be made, and we'll see if the visibility is any better in those points."
Coast guard spokesman Cosimo Nicastro said work would focus on an evacuation assembly area on the partially submerged fourth deck, where most of the 11 bodies found so far have been located.
"It's where we have already found seven of the bodies and it's where the passengers and crew gathered to abandon ship," said coast guard spokesman Cosimo Nicastro.
At least 23 people are still missing from the 4,200 passengers and crew aboard when disaster struck the Concordia, a vast floating resort just two hours into a week-long cruise of the western Mediterranean.
RELATIVES

As the search work continued, relatives of some of the missing arrived at the scene, although no serious hope remained of finding anyone alive in the icy waters.
"We are asking that in this moment all the rescue team units and authorities don't lose any time and do everything they can to recover or find, dead or alive, my daughter," said Sartonino Soria who had come from Peru after learning that his daughter Erika, a member of the crew, was missing.
"This is the reason why we are here and we will not leave until we have found Erika," he said.
Italian authorities have put up a list of 28 missing people on an interior ministry web site, though they say that probably included five people found dead on Tuesday who are so far unidentified.
The list of people still unaccounted for on Tuesday evening included 13 German, four French, five Italian and two American passengers, together with four crew members from Italy, India, Hungary and Peru.
Dutch maritime services company SMIT said it was ready to start pumping fuel from the stricken liner as early as Wednesday once search operations for missing people have ended and they get the go-ahead from local authorities.
However there was no word on when the work may begin. Authorities fear that stronger winds forecast for the coming days may hinder recovery work and pose a potential threat to the stability of the ship, which rests on a submerged rock outcrop.
The Concordia lies on its side in some 20 metres of water but the rock shelf soon falls away into much deeper water and the wreck could slide down by as much as 130 metres if it shifts free from the rocks.
ALARM RAISED
As the search continued, a dramatic recording of a coast guard commander angrily ordering Schettino to return to the ship to direct rescue operations has transfixed Italy and made a media hero out of the straight-talking coast guard captain Gregorio De Falco.
"Thank you captain," wrote the daily Corriere della Sera newspaper in a front page editorial which said that De Falco's energetic and decisive words were as a wider call to a sense of personal responsibility in Italy.
Schettino is accused of multiple manslaughter, causing a shipwreck by sailing too close to shore and abandoning ship before all his passengers and crew scrambled off.
He has denied the charges and told magistrates on Tuesday he believed he should be credited with saving "hundreds, if not thousands" of lives because he brought the ship close to shore after it hit a rock, lawyer Bruno Leporatti said.
Video taken from a rescue helicopter in the early hours of Saturday, using a night vision camera, showed an extraordinary scene of dozens of passengers being gingerly lowered on ropes down the upturned hull of the ship into rescue boats.
The ship foundered after striking a rock as dinner was being served on Friday night. The owners say the captain swung inshore to "make a bow" to the islanders, who included a retired Italian admiral. Investigators say it was within 150 metres of shore.
Most of the passengers and crew survived despite hours of chaos and confusion after the collision. The alarm was raised not by an SOS from the ship but mobile phone calls from passengers on board to Italian police on the mainland.

Follow Emirates 24|7 on Google News.