Obama tells Hu human rights should be upheld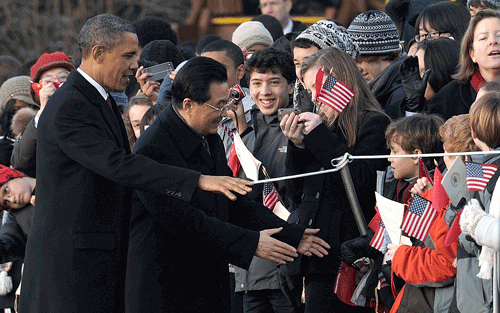 US President Barack Obama on Wednesday urged Chinese President Hu Jintao to uphold human rights in his country, saying it could prove key to China's future success.
The Chinese president was welcomed at the White House with full military honors before Oval Office talks with his US counterpart.
Hu's limousine drew up at 9:07 am (1407 GMT) at the White House, where the visiting Chinese leader was warmly greeted by Obama at the start of a grand ceremony held on a freezing winter's day.
After solemnly standing to hear the national anthems of the two countries, the two men greeted crowds of adults and children gathered on the White House lawn waving Chinese and American flags.
The US President said a visit by Hu would lay the basis for future ties with China, saying the two nations had an "enormous stake" in each other's success.
"With this visit we can lay the foundation for the next 30 years," Obama said as he welcomed Hu to the White House.
"We have an enormous stake in each other's success. In an interconnected world, in a global economy, nations including our own will be more prosperous and more secure when we work together," he told a ceremony.
Hu in return said that since Obama took office "our cooperation in various fields has produced fruitful results and our relations have achived new progress."
Obama however did stray into one of the areas of contention between the two nations, that of human rights.
"History shows that societies are more harmonious, nations are more successful and the world is more just when the rights and responsibilities of all nations and all people are upheld," Obama said.
Meanwhile,Democratic US Senate Majority Leader Harry Reid branded the Chinese President a "dictator" -- then quickly regretted the remark as Hu began his visit to the US.
Reid, who turned down a White House invitation to attend a state dinner in Hu's honor on Wednesday, was scheduled to meet with the Chinese leader at the US Capitol on Thursday along with other senior US lawmakers.
"I am going to back to Washington and meet with the president of China. He is a dictator. He can do a lot of things through the form of government they have," Reid told KSNV television in his home state of Nevada on Tuesday.
"Maybe I shouldn't have said 'dictator,' but they have a different type of government than we have -- and that is an understatement," said Reid, who had been asked about the prospects for cooperation in divided Washington.
"We have to work in the system we have, the best system ever devised to rule the affairs of men and women," Reid said.
"And one of the few ways we get things done, in fact the most important way we get things done, is through compromise. It's not a bad word," said the Democrat, who won reelection in November.
Reid, Republican Senate Minority Leader Mitch McConnell, and Republican House Speaker John Boehner -- now the third-ranking US elected official -- have all turned down invitations to the dinner for Hu.
And other lawmakers have ramped up their criticisms of China, notably warning they plan to introduce legislation to counter what they charge is Beijing's strategy of keeping its currency, and therefore its exports, artificially cheap.
Asked about the comments, Reid spokesman Jon Summers said the lawmaker "himself said that wasn't the best choice of words and corrected it."
"He also believes that it is important for us to continue our dialogue with the Chinese government about a wide range of issues which are critical to both countries, including our economy, Iran, North Korea," said Summers.
Follow Emirates 24|7 on Google News.