Pakistan's Taliban deny twin blasts that killed 39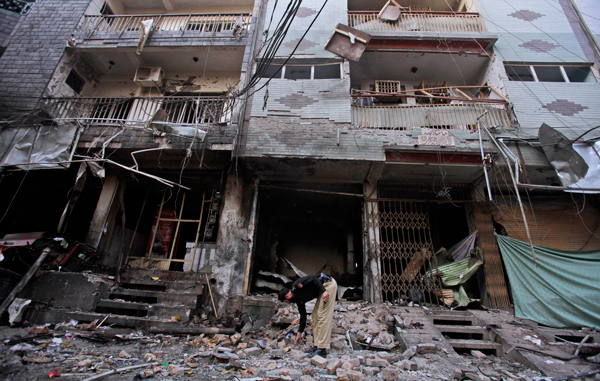 Pakistan's Taliban on Sunday denied responsibility for twin bomb blasts that ripped through a crowded market in the northwestern city of Peshawar, killing 39 people and injuring dozens.
The attack, one of the deadliest in a series to hit Pakistan since US Navy SEALs killed Osama bin Laden in May, devastated the Khyber Super Market district which includes a hotel, shops and student accommodation.
A small initial blast at around 11:30 pm local time Saturday drew onlookers and emergency services before a second more powerful blast, believed to be from a suicide strike, detonated and was heard for miles around.
"Death toll has risen to 39 in the blasts as four wounded people died in hospital," senior local police official Ijaz Khan told AFP. He said the explosions were just four minutes apart.
"The first blast was quite small but as people gathered close to the site of the explosion, the second one, which was real big one, went off."
Those killed included two journalists working for English-language newspapers Pakistan Today and The News.
Abdul Hameed Afridi, chief doctor at Peshawar's main Lady Readings hospital, confirmed the death toll and said 108 wounded were brought to the hospital overnight, with 47 of them admitted for treatment.
The Pakistani Taliban, who have vowed to carry out attacks to avenge the killing of bin Laden, denied any role in the bombing and said they target only the government and military.
"We did not carry out this attack in Peshawar. It is an attempt by foreign secret agencies who are doing it to malign us," Tehreek-e-Taliban spokesman Ehsanullah Ehsan told AFP on phone.
"We do not target innocent people. Our targets are very clear, we attack security forces, government and people who are siding with it," Ehsan said.
Nearly 4,500 people have been killed across Pakistan in attacks blamed on Taliban and other Islamist extremist networks based in the nearby tribal belt since government troops stormed a radical mosque in Islamabad in 2007.
The latest Peshawar bombing badly damaged six shops and the hotel.
Pieces of human flesh, along with debris including smashed crockery and broken furniture from the hotel, were scattered outside.
"The first blast was triggered by a timed device planted in the bathroom of the hotel while a suicide bomber riding a motorbike blew himself up near the hotel," bomb disposal chief Shafqat Malik told AFP.
"We have found a head and some other body parts of the bomber from the attack site," he said.
Television footage showed ambulances rushing to the scene and taking away the injured, as well as the bodies of the dead.
"I was parking my car near the hotel when the first blast took place. I rushed to the hotel to see nature of the explosion when the second bomb went off with a big bang," local journalist Safiullah Mehsud told AFP.
Mehsud, who was injured in the head and legs, said he recalled being thrown into the air by the power of the blast, before being knocked unconscious.
Muhammad Hashim, a cameraman working for a local TV channel, said he was taking tea after dinner when the blasts occurred.
"I ran towards the hotel after the first blast and it was about that time when I saw a big fireball followed by another explosion," said Hashim, who was wounded in his head and chest.
The latest violence came shortly after visiting Afghan President Hamid Karzai called on Pakistan to eradicate militant sanctuaries, in talks on a peace process with the Taliban.
Karzai and a raft of top aides held two days of meetings in Islamabad in the aftermath of bin Laden's death which has heightened calls within the United States for a peaceful settlement in Afghanistan.
CIA chief Leon Panetta on Friday met with top military and intelligence officials and discussed ways to strengthen future intelligence sharing, the Pakistani military said.
The twin attacks also came a week after Pakistan's Al-Qaeda commander Ilyas Kashmiri, one of the network's most feared operational leaders, was believed to have been killed in a US drone strike in South Waziristan tribal region, near the Afghan border.
Nearby Peshawar is the gateway to Pakistan's rugged northwest tribal region, the stronghold of Taliban and Al-Qaeda linked militants, and bomb attacks there are common.
Follow Emirates 24|7 on Google News.