Peace efforts appear to gather pace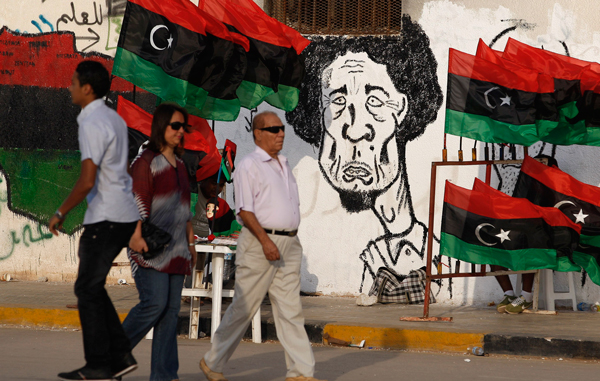 The search for a political solution to Libya's war has quietly moved up a gear despite tough-looking declarations by Muammar Gaddafi and his rebel foes suggesting they can fight on.
In part, the impression of a quickening behind the scenes peace effort stems from the sheer number of statements made by the combatants urging a settlement, aggressive and sometimes contradictory though some of these communiques are.
Speculation, analysts say, that a deal may be in the works has also been heightened by unconfirmed talk that rebels have eased some operations against Gaddafi, as either a short-term military tactic or, possibly, to facilitate negotiations.
And some say an arrest warrant for Gaddafi issued by the world court at The Hague has spurred deal-making by giving the West potential new leverage in the form of a possible offer of immunity in return for him stepping down from power.
"My hunch is that we're not far from the end game," Oliver Miles, a former British ambassador to Libya, told Reuters.
"There's definitely something going on," said UK-based opposition journalist and analyst Ashour Shamis, referring to his belief that political efforts had been stepped up.
"There are now more efforts to bring things to a conclusion and avoid an armed struggle for Tripoli, which would be very messy," he said, referring to the capital, a Gaddafi bastion.
Gaddafi has rejected all international calls for him to step down and said he will fight to the end, but people in his inner circle have signalled they are ready to negotiate with the rebels, including on the Libyan leader's political future.
Rebel leader Mustafa Abdel Jalil said on Sunday Gaddafi was welcome to live out his retirement in Libya as long as he gave up all power, in the clearest rebel concession to date.
On Monday Jalil issued a statement saying he had wanted to "clarify" that there was no possibility for Gaddafi to stay in Libya and he would have to face justice.
Jalil also said there had been no negotiations with Gaddafi. Gaddafi's administration, for its part, said the government had had meetings in foreign capitals with rebel representatives to try to negotiate a peace deal.
Noman Benotman, an analyst at the British Quilliam thinktank and a friend of former Libya spy chief Moussa Koussa, said he suspected Gaddafi was ready to step down, under conditions.
GADDAFI'S "INSURANCE POLICY"
These were that Gaddafi stay in Libya, with immunity, and a son have an official role in a future Libya.
"He strongly wants a son to be part of the future of Libya, representing the tribes now supporting the regime," he said.
"It's his plan, his insurance policy. He believes that if, later, they go through elections, he and his family will get protection from the tribes whose support they now have."
Saad Djebbar, a former legal advisor to the Libyan government, said arrest warrants by the International Criminal Court last month for Gaddafi, one of his sons, Saif al-Islam, and his security chief Abdullah al-Senussi were a big part of the backdrop to the combatants' latest manoeuvring.
An immunity deal was possible, he said.
"Gaddafi would be a fool not to accept an internationally-binding U.N. Security Council resolution granting him immunity from the court in return for him giving up power and calling on his people to abandon arms," he said.
REPORTED DEAL REJECTED AS "PRESSURE"
To date, the outlook for such a deal appears poor. In remarks to Russian television last week, Saif al-Islam said NATO had already offered the government an "under the table" deal that would see the arrest warrants dropped if they quit power.
He dismissed the warrants and the reported NATO offer as a means of "psychological and political pressure."
But some analysts say that as time goes on such a deal might look more attractive, if only because the alternative of being driven militarily from power without immunity looked grimmer.
"As long as Gaddafi still has some power, he can accept any such offer. But I believe he is losing power by the day," said Djebbar, who thinks Gaddafi has progressed through various stages of denial during the war and may now be ready to compromise.
"We have now got to the last stage, where he actually starts to think he is going to lose ... He sees the difficult Ramadan coming, he sees his friends in places like Russia and Algeria under pressure to abandon him. He has limited time to decide."
Gaddafi's government is in the process of preparing for a Muslim fasting month that will test its dwindling resources because it must obtain sufficient food and fuel to enable Libyans in government-held areas to hold family celebrations.
Follow Emirates 24|7 on Google News.