Peru in fight to save its endangered languages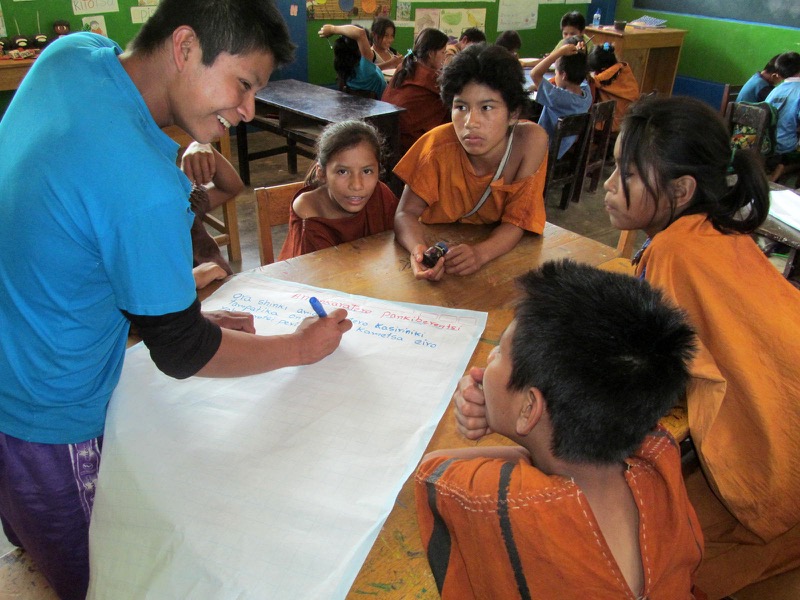 Amadeo Garcia has no one left to talk to in his mother tongue, Taushiro.
Neither does Pablo Andrade, the last living speaker of Resigaro.
The two indigenous languages are among 17 that are critically endangered in Peru, where modern life's advance into the isolated Amazon basin region has wiped out many native peoples' way of life, and their languages along with it.
Garcia, 67, is the last living Taushiro, an indigenous group native to northern Peru that was decimated by malaria, conflicts with rubber tappers and toxic oil spills in its rivers.
Andrade, 65, has likewise watched his people and their language fade away.
He lived until recently with his sister, Rosa, the other surviving speaker of Resigaro.
But she was mysteriously murdered last month, leaving him with no one to talk to in their dying Amazonian language.
There were 37 Resigaro speakers left a decade ago. But the others have all married into a larger ethnic group, the Ocaina, and given up speaking their mother tongue, said anthropologist Alberto Chirif.
Peru, the cradle of the ancient Incan empire, is battling to protect its wealth of indigenous languages from being overpowered by Spanish, the dominant language since colonial times.
The government produces a daily TV news program in Quechua for the four million people who speak it.
Another is in the works in Aymara, which has nearly half a million speakers.
Both of them have many dialects.
Yet in this country of 30 million rising from coastal desert to towering Andes and tropical Amazon basin lowlands beyond -- not all languages have the same demographic heft as the Andean big two.
"There are four endangered indigenous languages and another 17 that are critically endangered, which is about half the country's indigenous languages," said Elena Burga, head of the government's Intercultural, Bilingual and Rural Education Department.
No fewer than 37 indigenous languages have already disappeared, according to official statistics.
Burga said the cultural weight of Spanish — the primary language of government, education and TV — crushes indigenous languages, making children less likely to learn them.
The problem has been exacerbated by the threats facing indigenous groups, who have been forced from their land by farming, oil drilling, illegal mining and logging, and drug cartels.
"Disease can also decimate an isolated population and drastically reduce its numbers," Burga told AFP.
More than words
Some 2,500 languages worldwide face extinction, UNESCO warned in 2009.
Each one represents a treasure trove of words, poems, jokes, proverbs and legends, it said.
The problem is particularly acute in Peru, where the challenging environments of the Amazon rainforest and Andes mountains harbor dozens of fragile indigenous communities.
According to National Geographic, the region is one of five hotspots with the greatest number of endangered languages in the world, along with northern Australia, the northwest Pacific plateau in North America, and eastern and central Siberia.
Taushiro and Resigaro are particularly threatened, with just one speaker each. But they are not alone.
There are just three speakers of Munichi, four speakers of Inapari and 11 speakers of Cauqui, for example.
In the case of Taushiro, the culture ministry has launched a project to create an audiovisual register of expressions and an audio dictionary.
The Yanesha people, in the central province of Oxapampa, have for their part opened a series of bilingual schools with the help of US anthropologist and linguist Richard Chase Smith.
One of the schools' missions is to adapt the Yanesha alphabet to modern technologies, in hopes of carving out a space online.
"I lived nearly 15 years in this community and managed to collect recordings of their traditional oral histories, a cornerstone of their identity," said Smith.
"I have recordings of 18 epic narratives... that the Yanesha people themselves now listen to at workshops."
Forty of Peru's 47 indigenous languages have bilingual schools — "even if only a small one," says Burga — thanks to a government project to ensure their survival.
The government is also working to develop writing systems and texts, for the larger languages, or audio archives, for the smaller ones.
But anthropologist Chirif urged officials to do more.
"We need a plan to recognize indigenous peoples' rights to their land and identity," he said.
Follow Emirates 24|7 on Google News.