Petrol tanker explodes in Libyan capital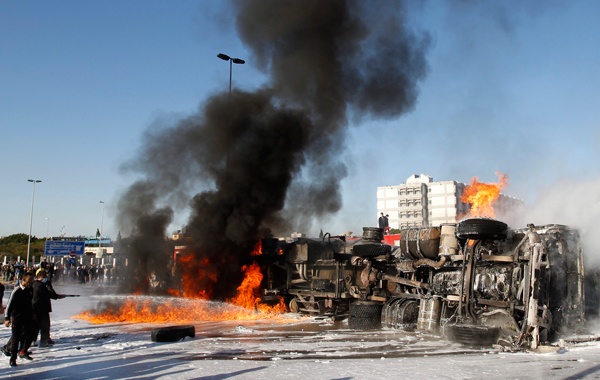 A petrol tanker exploded Wednesday near the compound of Libyan leader Moamer Kadhafi in Tripoli, rattling nerves amid anti-regime protests in the oil-rich country, an AFP correspondent said.
The cause of the blast was not immediately clear but there appeared to be no casualties.
The tanker overturned and split open and flames were shooting up to four metres (12 feet) in the air at the scene of the blast, which is near a mosque and a hotel.
A crowd of several hundred pro-Kadhafi supporters rallied near the site of the explosion. Many carried portraits of the strongman while a few carried Kalashnikov rifles.
Protesters against Kadhafi's four-decade rule have seized control of most of the country despite a bloody fightback by his forces. Tripoli remains under his control and largely peaceful.
Follow Emirates 24|7 on Google News.