Police pen Egypt's ElBaradei in protest area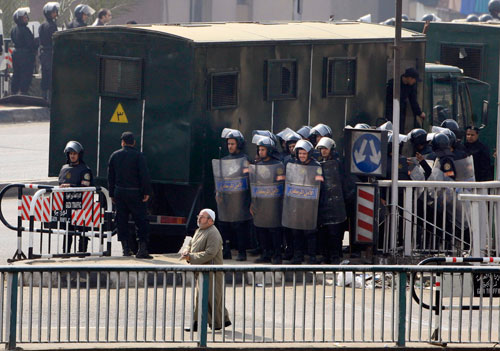 Police prevented Egyptian opposition activist Mohamed ElBaradei from leaving an area in Cairo on Friday where protests against President Hosni Mubarak erupted, Al Jazeera reported.
It initially reported that he had been detained.
Police clashed with protesters and sprayed them with water as they demanded an end to President Hosni Mubarak's 30-year rule in demonstrations billed by activists as a "Friday of Wrath", a Reuters witness reported.
"Down, down, Hosni Mubarak," the chanted, stamping on posters of the president. They threw stones and dirt when the police who had surrounded them during Friday prayers sprayed water on the crowd.
Mohamed ElBaradei, a Nobel Peace Laureate who has called for an end to Mubarak's rule, had joined the prayers involving about 2,000 people. They had been surrounded by police while praying in a square just outside a mosque in the Giza area of Cairo.
"The people want the end of the regime," they started shouting once the prayers were complete. They threw shoes at and stamped on posters of the president, a rare act of defiance in Egypt. "Leave, leave. Mubarak, Mubarak, the plane awaits you," chanted in the protests, which have been inspired by a revolt in Tunisia. The Tunisian president of 23 years, Zine al-Abidine Ben Ali, fled after those demonstrations to Saudi Arabia.
Follow Emirates 24|7 on Google News.