Probe ordered into Iran plane crash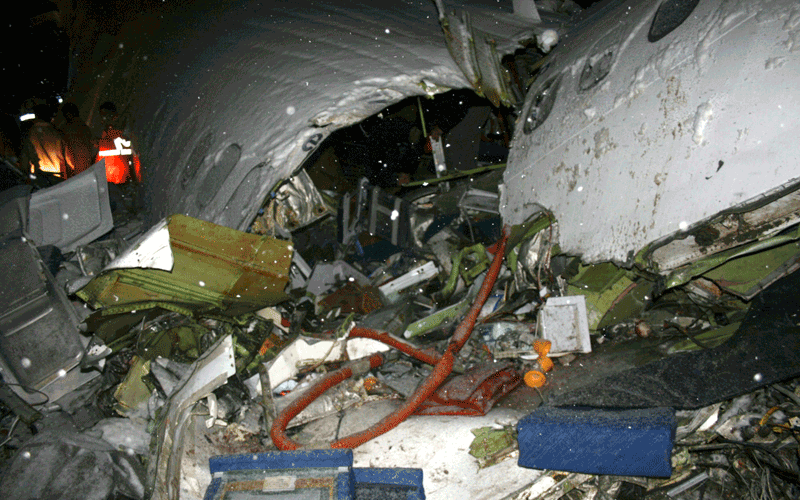 President Mahmoud Ahmadinejad on Monday ordered a probe after an Iran Air crash killed 77 people and injured dozens of others as their plane broke up into pieces in heavy snow and fog, state media said.
The Boeing 727 with state-run Iran Air crashed near the northwestern city of Orumiyeh at around 7:45 pm (1615 GMT) on Sunday after it took off from Tehran's Mehrabad airport, state television said on its website.
"Unfortunately, 77 of our citizens were killed" in the accident, the television said on Monday, out of the 105 people travelling on what reportedly was an ageing Boeing airliner delivered to Iran back in 1974.
Television footage of the crash showed the airliner broken into three pieces and buried in thick snow, with some corpses covered in blankets and laying near the plane's debris.
An Iranian Red Crescent official told state television that the "plane hit the ground and broke into pieces. Thankfully there was no fire."
"This flight had 105 persons on board, 94 passengers and 11 flight crew," ISNA news agency reported, quoting Ahmad Majidi, the head of Iran's road and transport ministry's crisis panel.
Majidi, in a separate report on state news agency IRNA, said one passenger who was missing since the crash was found on Monday.
"He was thrown out of the plane. He has been taken to the hospital in Orumiyeh," he said, adding that another passenger was still untraceable.
Media reports said that eight of the injured passengers were in critical condition.
Mehr news agency, quoting an official from West Azerbaijan of which Orumiyeh is the capital, reported that the passengers of the ill-fated plane included a Turk and two Iraqis.
Ahmadinejad ordered a probe into the crash, Transport Minister Hamid Behbahani told Mehr news agency, adding that the "preliminary reason" for the accident was "lack of visibility and fog"
Majidi also said that "based on the evidence, the plane's captain could not land at Orumiyeh airport due to bad weather conditions and he decided to return to Tehran.
"But for unknown reasons the plane crashed around five miles (eight kilometres) from the airport."
Iran Air spokesman Shahrokh Noushabadi has likewise blamed bad weather.
There were, however, conflicting reports on the plane's two black boxes, with Behbahani saying the data devices had been found, while one of his ministry's official said they had not been retrieved.
The Boeing 727 was "given to Iran in 1974 and at that time it was a second-hand" aircraft, according to ISNA, which quoted what it identified as an unnamed informed source.
The Islamic republic's civil and military fleet is made up of ancient aircraft in very poor condition because of their age and lack of maintenance.
Iran, under years of international sanctions, has suffered several aviation disasters over the past decade, many of them involving small companies using Russian crew or crews from former Soviet republics in Central Asia.
In Iran's worst air accident, a plane carrying members of the elite Revolutionary Guards crashed in February 2003, killing 302 people on board.
In July 2009, a Soviet-designed Tupolev caught fire in mid-air and plunged in flames into farmland northeast of Tehran, killing all 168 people on board.
And in December 2005, a total of 108 people were killed when a Lockheed transport plane crashed into a high-rise housing block outside Tehran.
In November 2006, a military plane crashed on takeoff at Mehrabad airport, killing all 39 people on board, including 30 members of the Revolutionary Guards.
Follow Emirates 24|7 on Google News.