Prosecutor seeks death for Mubarak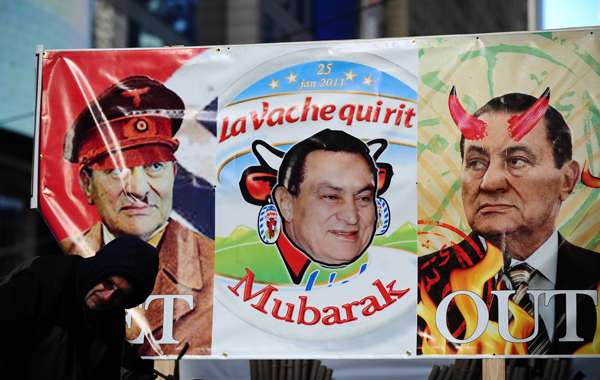 The prosecution in the case against Hosni Mubarak on Thursday demanded the death sentence for the former Egyptian president and other defendants including his two sons and the former interior minister.
Mubarak is facing charges of ordering the killing of protesters during the demonstrations which swept him from power last February. The judge adjourned the trial until Jan. 9.
"The prosecution demands the maximum penalty against Mubarak and the rest of the accused which is death by hanging," Mustafa Khater, a member of the prosecution team during a court session.
Activists freed
Egypt has freed on bail four activists arrested earlier this week for putting up posters critical of the ruling military council amid voting for the country's first free parliament in decades, an activist group said on Thursday.
The military council, in power since President Hosni Mubarak was ousted in February 2011, has drawn growing criticism from the United States and human rights groups over its crackdown on critics in the aftermath of the uprising.
The four activists were members of an offshoot of the April 6 youth movement that helped mobilise the revolt against Mubarak and has since been campaigning for a return to civilian rule.
They were detained on Tuesday while hanging up posters comparing heroic images of soldiers after the 1973 war with Israel with pictures of troops beating women in Cairo during protests last month, according to a member of the group.
The April 6 movement said the four were released by the investigating judge pending charges of distributing flyers without a license and undermining public security. The judge dropped charges against the activists of insulting the army and trying to overthrow the ruling order.
The arrests came days after Egyptian authorities swooped on 17 non-governmental groups, which they said were part of an investigation into illegal funding of political activities.
The United States criticised the raid and hinted it could review the $1.3 billion in annual military aid to Cairo if the crackdowns continue.
Dissidents believe that while the military council says it wants to relinquish power, it aims to hold on to the influence and privileges it enjoyed under Mubarak's rule.
The council has said it respects the right of Egyptians to freedom of speech or protest as long as they remain peaceful. It promises the transitional period will lead to democratic government.
Egyptians voted for a second day on Wednesday in the final stage of the lower-house election, the first free legislative vote since army officers overthrew the monarchy in 1952, with the Islamist Muslim Brotherhood set to take a dominant role.
Follow Emirates 24|7 on Google News.