Protesters unconvinced as Egypt swears in new cabinet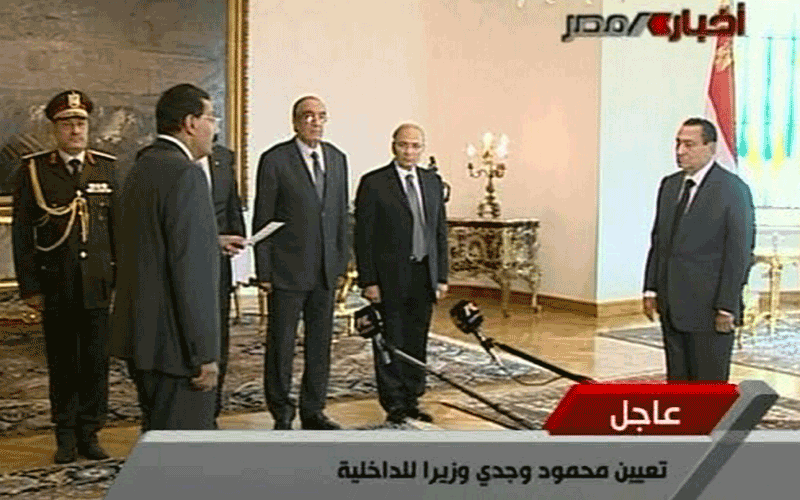 A new Egyptian cabinet took office on Monday but the protest movement calling for the overthrow of President Hosni Mubarak said the changes were irrelevant.
The cabinet has a new prime minister, a new interior minister and fresh faces in the key economic ministries.
Mubarak dismissed his old cabinet on Friday after tens of thousands of angry Egyptians poured on to the streets demanding he resign. He also appointed intelligence chief Omar Suleiman as vice president.
The new prime minister, also appointed on Friday, is former air force commander and civil aviation minister Ahmed Shafiq, who was Mubarak's subordinate in the military in the 1970s.
In the new cabinet, Defence Minister Mohamed Hussein Tantawi retains his post and gains the status of deputy prime minister, confirming a shift in favour of military personnel.
Protesters, who have been demonstrating in Cairo and other cities since last Tuesday, say personnel changes will not placate them. They say their main demand is to overthrow Mubarak and get rid of all this associates.
The main change in the military and security establishment is the appointment of Mahmoud Wagdy as interior minister in place of Habib el-Adli, whose vast riot police force failed to prevent the protests from taking over the city centre.
As usual in Egypt, the new interior minister comes from within the police force. Wagdy was formerly head of the criminal investigations department and of the prison service.
On the economic front the liberals who led the country to strong growth over the last six years are gone, including Prime Minister Ahmed Nazif, Finance Minister Youssef Boutros Ghali and Trade and Industry Minister Rachid Mohamed Rachid.
The new finance minister, Samir Mohamed Radwan, comes from the government's General Authority for Investment, which oversees foreign investment. He is a British-educated economist.
The new minister of trade and industry is Samiha Fawzi Ibrahim, who was deputy to the outgoing minister. An official source said Boutros Ghali and Rachid told the new prime minister he would do well to find new faces during the present crisis.
Another departure is long-serving culture minister Farouk Hosni, who is closely associated with the Mubarak family. He is replaced by author and critic Gaber Asfour.
Foreign Minister Ahmed Aboul Gheit retains his position.
In Tahrir Square, the hub of the protest movement, demonstrators dismissed the changes.
"They are wasting their time. The head of the regime, Mubarak, must be ousted. We want Mubarak out," said Mohamed el-Nahass, a 47-year-old railway worker.
Hassan, a construction worker, said: "The whole regime must come down. We do not want anyone from Mubarak's retinue in the new government, which the people will choose. We want a civil government run by the people themselves."
Follow Emirates 24|7 on Google News.