Quartet prioritise Egypt's impact on Mideast talks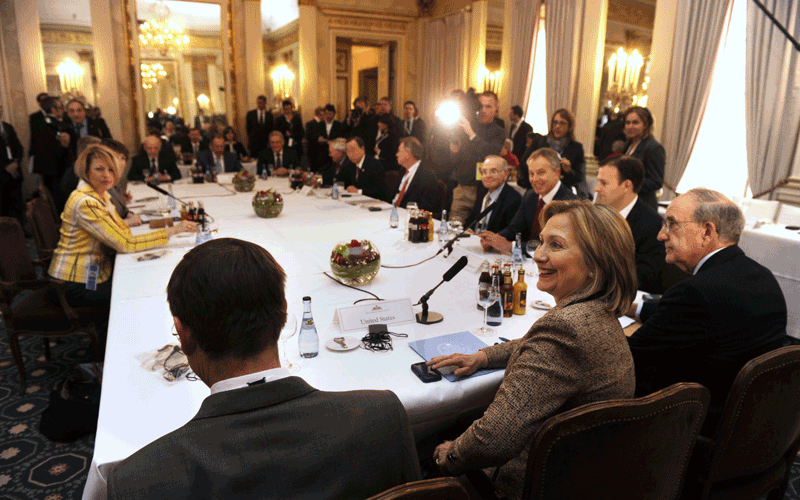 The Quartet of Middle East peace negotiators said on Saturday they would give high priority to the impact of the current unrest in Egypt on the stalled peace negotiations between Israel and the Palestinians.
In a draft statement due to be endorsed by the United Nations, European Union, Russia and the United States, they said further delays in resuming talks would be "detrimental to prospects for regional peace and security".
"The Quartet took note of the dramatic developments in Egypt and elsewhere in the region in recent days," said the statement drafted for approval by the four parties on the sidelines of a security conference in Munich.
US Secretary of State Hillary Clinton, UN chief Ban Ki-Moon, EU foreign policy chief Catherine Ashton and Russian Foreign Minister Sergei Lavrov were holding a Quartet meeting during the Munich conference.
"The Quartet members considered the implications of these events for Arab-Israeli Peace and agreed to discuss this further in upcoming meetings as a matter of high priority."
The Quartet "strongly urged the parties on that basis to overcome current obstacles in the peace process".
The statement, a copy of which was seen by Reuters, said the four parties reiterated their support for concluding the Israeli-Palestinian negotiations by September this year and said the Quartet would meet again in mid-March on the way ahead.
Quartet envoys would seek to meet seperately with Israeli and Palestinian negotiators ahead of this in Brussels, the draft statement said.
Follow Emirates 24|7 on Google News.