Raging fire tears through prized Rio museum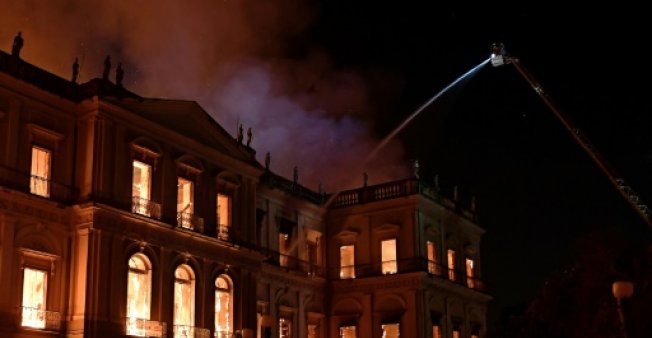 A massive fire on Sunday ripped through Rio de Janeiro's National Museum, one of Brazil's oldest, in what the nation's president said was a "tragic" loss of knowledge and heritage.
Television footage showed the majestic building engulfed in flames that firefighters had yet to bring under control, with plumes of smoke shooting into the night sky.
Though some 20 fire brigades dashed to the scene after the blaze erupted around 2230 GMT, they had yet to smother the inferno that was tearing through hundreds of rooms.
The museum, located in the city's north, was closed to the public when the fire broke out and no injuries were immediately reported. Neither were there any details about the cause of the blaze.
The museum was founded in 1818 by King Joao VI and is considered a jewel of Brazilian culture, housing more than 20 million valuable pieces.
"This is a tragic day for Brazil," President Michel Temer said in a statement.
"Two hundred years of work and research and knowledge are lost."
The collection included art and artifacts from Greco-Roman times and Egypt, as well as the oldest human fossil found within today's Brazilian borders, known as "Luzia."
The museum's deputy director, Luiz Fernando Dias Duarte, voiced "profound discouragement and immense anger" as the treasured institution burned, accusing Brazilian authorities of a "lack of attention."
He said the museum, a former palace that was once the official resident of the royal family, had never had necessary support.
The National Museum, which is linked to the Federal University of Rio de Janeiro, had suffered from funding cuts.
As the fire raged researchers, professors and university students expressed a mix of sorrow and indignation, with some calling for demonstrations Monday in front of the ravaged building.
Senator Lindbergh Faris of the country's leftist Workers' Party decried the institution's lack of funding and blamed it on spending cuts ordered by the government.
The fire comes as campaigning for October's critical presidential vote gets underway, one of the most uncertain Brazilian elections in decades.

Follow Emirates 24|7 on Google News.