Rains worsen Sri Lanka flood havoc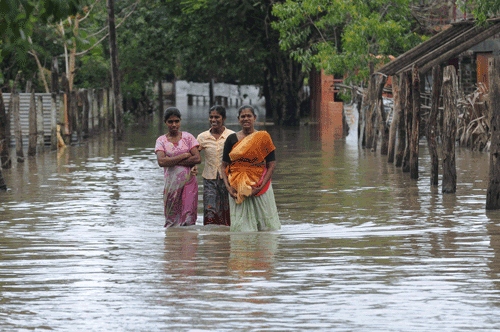 Fresh rains Friday compounded the misery of the million-plus victims of Sri Lanka's deadly floods, as relief workers struggled to bring crucial supplies to the worst-affected regions.
After a brief respite overnight, renewed downpours battered the island's central and eastern districts where 27 people have been killed by the flood waters and mudslides.
"The situation is clearly worsening," said Paula Alvarado, a regional spokesman for the International Federation of the Red Cross.
"Landslides continue to occur in the hilly provinces and many dams are threatening to burst. We already have over one million people affected and that number is likely to increase quickly," Alvarado said.
Some 3,000 soldiers have been deployed to help with the relief efforts, along with trucks and air force helicopters, as UN convoys have battled to bring supplies in by road.
A large number of those forced out of their homes had only recently been resettled after decades of ethnic conflict between Tamil Tiger rebels and government forces.
And many had also seen their livelihoods wrecked before by the December 2004 Asian tsunami.
"Many families were just returning home after years of displacement," said Reza Hossaini, country representative for the UN children's agency, Unicef.
"They were rebuilding their lives, children were returning to their community schools, and now they all face this latest severe setback," Hossaini said.
Seven trucks loaded with UNICEF supplies, including water tanks, tarpaulins, chlorine tablets, sleeping mats and cooking gear, managed to reach the eastern districts of Ampara and Batticaloa late Thursday.
Residents of Batticaloa, a major rice-growing area, said it was the worst flooding in living memory.
"I have never seen anything like this before," said farmer H.A.D. Jinadasa. "It will take months to recover. I have lost everything, my fields and farm machinery."
S. Kokulan, a village official who had turned a local school into a welfare centre, said more than 3,000 people had come looking for help and shelter, although the school building was itself partially flooded.
"The men come for meals and then go back to look after their houses. As the waters go down, people are scared of looting," Kokulan said.
Sections of the main road leading to Batticaloa from Colombo, a distance of 300 kilometres (187 miles), were still submerged, allowing only heavy weather vehicles with a high ground-clearance to get through.
A spokesman for the state-run Disaster Management Centre said the number of seeking protection in state-run shelters swelled to nearly 400,000.
"We fled with only the clothes we are wearing," said 17-year-old student Kasthuri Anandakumar, who had lost both parents in the 2004 tsunami.
President Mahinda Rajapakse told reporters in Colombo that they were still estimating the extent of the damage, with the agricultural ministry suggesting that that nearly 20 percent of the country's rice farms had been flooded.
"We are not sparing any costs," the president said. "The relief operations are going ahead and I have told the officials to ensure that there are no delays in distributing aid."
Sri Lanka depends on monsoon rains for irrigation and power generation, but the seasonal downpours frequently cause death and property damage in low-lying areas as well as mountainous regions.
The island's two main monsoon seasons run from May to September and December to February.
Follow Emirates 24|7 on Google News.