Rate rises and graft scandals threaten India growth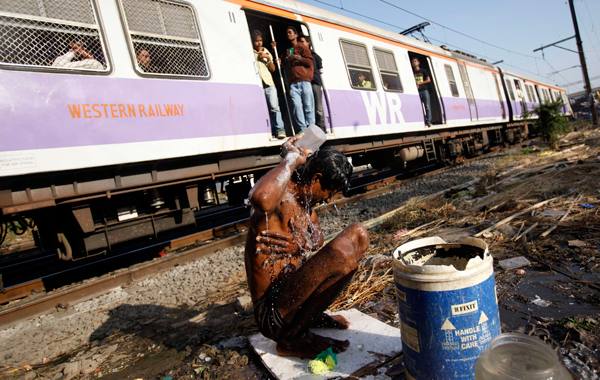 India is set for scorching growth this year but concern is mounting about its longer-term outlook, with the central bank seen hiking interest rates further and corruption scandals worrying investors.
The stock market has already dropped some 17 percent this year, hit by fears that economic growth will cool due to higher interest rates and souring foreign investor sentiment amid a spate of high-profile corruption scandals.
In January, foreign institutional investors turned net sellers for the first time in eight months, dumping some ê1.4 billion in Indian stocks, according to industry data.
"Corruption and ensuing political risk has without question become a major concern" with foreign investors, Mumbai brokerage Espirito Santo Securities said in a commentary.
The government says it is confident India's economy will expand by 8.6 percent in the fiscal year ending in March, eclipsing the previous year's 8.0 percent growth.
But growth may slacken to 7.7 percent next year as resurgent oil prices and further rate rises to tame inflation "take their toll", Credit Suisse economist Robert Prior-Wandesforde cautioned.
Goldman Sachs economist Tushar Poddar said he was holding to his growth projection of 8.7 percent for next year but added risks to the forecast were "firmly to the downside".
Such growth would delight Western nations where expansion is anaemic, but India is striving to lift its expansion to double digits -- levels it says are needed to raise living standards of its impoverished millions.
Signs of an economic slowdown were highlighted in data late last week, which showed that industrial output growth in December slackened to 1.6 percent from 19 percent the same month a year earlier -- its weakest pace in 20 months.
"There is the worry that the (monetary) policy tightening will inflict serious damage on growth," said Kevin Grice of Capital Economics.
But despite appeals from business, which fears the economy is losing traction, the poor numbers are not expected to deter the central bank from tightening monetary policy in March for an eighth time in just over a year as it seeks to lower inflation running at over 8.4 percent.
"We must understand ultimately if inflation is not controlled, you cannot sustain a high growth rate," central bank deputy governor K.C. Chakrabarty said last week.
Rising prices have also emerged as a dominant concern of the Congress government, whose core supporters -- the poor -- have been worst hit by galloping prices, especially of food.
On top of the economic worries, a slew of scandals have broken out, including the arrest of a former telecoms minister on suspicion of selling mobile licences at cut-rate prices, costing the treasury up to ê40 billion.
Allegations of rampant corruption at the New Delhi Commonwealth Games last year led to the sacking of the event's chief in January, after delays and vast budget overruns in the event caused the government acute embarrassment.
Premier Manmohan Singh, whose leadership has been called into question by critics over the scandals, has sounded the alarm about the "menace" of corruption that he warned is tarnishing India's image.
He said this month administrative practices must be revamped to "reduce opportunities for corruption" and added that India needs a "paradigm shift" to modernise production methods to end bottlenecks and ease inflation.
Indeed, unless the government bites the reform bullet, "the future may see nothing better than the average growth of the last eight years -- 8.4 percent," warned T.N. Ninan, publisher of leading financial daily Business Standard.
For nine to 10 percent growth, India needs "further reform measures to free up markets, vastly improved delivery of services by the government, proper physical infrastructure -- and much less corruption," Ninan said.
Follow Emirates 24|7 on Google News.