Relief as Australia mops up from giant cyclone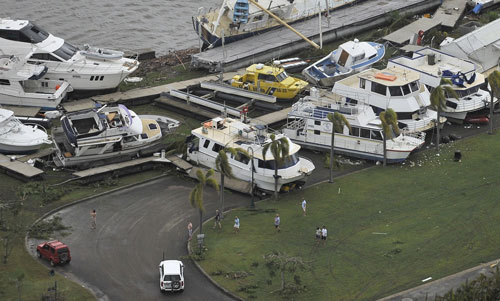 Australians voiced relief and surprise after one of the world's most powerful cyclones spared the nation's northeast coast from expected devastation on Thursday, with no reported deaths despite winds tearing off roofs and toppling trees.
Cyclone Yasi, roughly the size of Italy and packing winds of up to around 300 km per hour (186 miles per hour), threatened Australia with its second major natural disaster in as many months this week but ended up missing heavily populated areas.
"It's amazing no-one was killed. The wind was howling like a banshee," said farmer Nathan Fisher, speaking out the window of his four-wheel-drive vehicle as he returned to his property from a shelter in the small town of Innisfail.
Australia, a vast continent with less than three people for every square km, is one of the few countries where a storm as large and terrifying as Yasi -- with a diameter of up to around 500 km (310 miles) -- could simply miss major cities.
Even as Yasi began its 1,000 km (620 mile) inland march into the outback on Thursday, weakening all the time, tracking forecasts showed it was likely to hit only a handful of small towns in a region home to around 400,000 people.
The lack of any major damage or substantial casualties was also attributed to several days of cyclone preparation, early evacuations, laws that ensure newer homes and buildings are strong enough to survive a cyclone, and less than expected sea flooding as the cyclone missed the peak tides.
The cyclone came ashore around midnight along hundreds of km of coast in Queensland state and then drove inland, bringing heavy rains to mining areas struggling to recover from recent devastating floods.
"Early reports have given us all a great sense of relief," Queensland Premier Anna Bligh told reporters, adding the cyclone emergency was still unfolding.
"Some people in this region will be going back to their communities, going back to their neighbourhoods, and facing scenes of considerable devastation."
Yasi was rated a maximum-strength category five storm, on a par with Hurricane Katrina, which wrecked New Orleans in 2005, killing 1,500 people and causing $81 billion in damage.
It was downgraded to a category-two storm as it moved inland but its core remained very destructive, the Bureau of Meteorology said.
The biggest impact could be on the economy. Sugarcane crops had been damaged, with initial estimates suggesting around 15 percent of the national sugar crop could be lost. The industry estimated that one area, accounting for about a third of the crop, had suffered up to 50 per cent losses.
Australia is the world's third largest raw sugar exporter.
Some coal mines remained shut after the cyclone passed, although others were starting to resume operations. Queensland accounts for 90 percent of Australia's steelmaking coal exports.
TOURIST AREAS HIT
The eye of the cyclone crossed the coast near the tourist town of Mission Beach, where devastating Cyclone Larry struck in 2006, and damaged areas around Tully and Cardwell, where many older homes, built before tougher building codes were applied, suffered severe damage.
Authorities said initial reports suggested only about 100 houses had suffered major damage. There were no initial reports of serious injuries.
Hills around Tully were covered in snapped trees and scoured almost clean of vegetation by the force of the wind. The main road into Tully was flooded and several houses had roofs torn off, with crumpled tin lying in flooded fields.
At Innisfail, Bill Biscow stood in flood waters and cleaned up roofing shredded by the storm. "It was scary, but the damage is not as bad as last time when the place got flattened. Cyclone Larry probably blew away the oldest buildings."
In the coastal hamlet of Cowley Beach, steel roofs were torn from houses and twisted around power poles.
"Ive been in the area for a long time and Ive seen many of these, but this one is the biggest Ive ever seen, said 84-year-old Robert Hurst, cleaning up his still-intact house.
Another resident, Maria Cook, returned from an emergency shelter to check on her home on the outskirts of Innisfail.
"I'm going to have to use a chainsaw to cut past trees and to get back inside my house," she said.
A weather bureau spokesman said a storm surge of two metres (six feet) above normal tides had inundated one stretch of coast but the surges were not as severe as authorities had feared.
The cyclone had cut electricity to around 200,000 homes, but main links to the power grid remained intact.
Queensland has had a cruel summer, with floods sweeping across it and other eastern states in recent months, killing 35 people and causing damage estimated at $10 billion or more.
Follow Emirates 24|7 on Google News.