Rescuers hear voice coming from Italian liner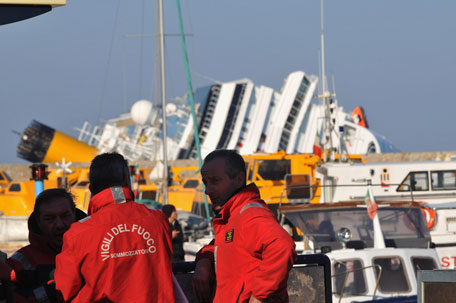 Rescuers could hear a voice coming from Italy's stricken cruise liner early Sunday, a spokesman said following a search for survivors that went on through the night.
"We heard a voice from the exposed part," Luca Carli told AFP, adding that the rescuers had begun hearing sounds at around 7:00 am (0600 GMT).
Coastguard spokesman Cosimo Nicastro told the all-news channel SkyTG24 that "there was verbal contact with one person."
"We're doing our utmost" to save the person, he said, confirming that the number of missing "is falling" while declining to state a figure.
A young South Korean couple on their honeymoon were discovered and rescued alive from a lower deck during the night, taking the number of people unaccounted for down to 39, local authorities said.
Carli said the voice came from the vicinity of the third deck of the liner, two days after the ship ran aground and keeled over, leaving three dead.
At least 42 people were injured, including two seriously -- a woman with a blow to the head and a man struck in the spine, medical sources said.
"We're trying to get there but it's a very, very complicated operation," Carli said.
He said the South Korean honeymooners had been evacuated by helicopter and are in "perfect condition."
"They were in their cabin, we still don't understand why," he added.
The Costa Concordia is lying half submerged at an 80 degree angle. Inside its massive hulk, obstacles include locked doors, broken stairways and stacks of fallen furniture.
Divers and specialised cavers are meticulously checking the cabins in the hope of finding more survivors.
Rescuers were able to work on the unsubmerged part of the wreck through the night but had to wait until dawn to resume work in the underwater part.
Firefighters said the accident cut the power on the vessel, causing doors that are usually opened with electronic badges to lock automatically.
Two French passengers and one Peruvian crew members have been confirmed killed in the disaster, apparently after jumping into the chilly Mediterranean waters after the Costa Concordia hit rocks late Friday and began to keel over.
Most of those hospitalised had suffered broken limbs or had hypothermia.
The disaster happened just hours after the ship had left the port of Civitavecchia near Rome at the start of a Mediterranean cruise that was meant to take it to Savona in northwest Italy and then on to Marseille and Barcelona.
Follow Emirates 24|7 on Google News.