Resignations rock Tunisia as thousands protest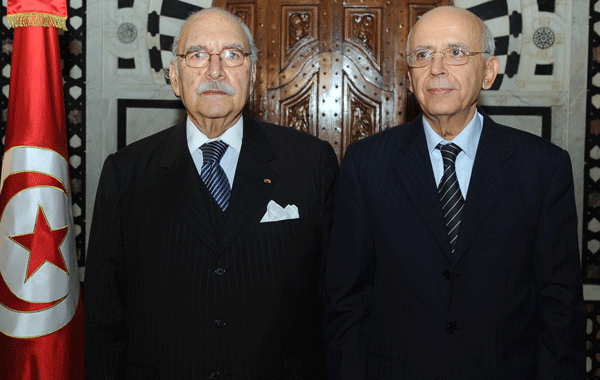 Four ministers in Tunisia's new unity government pulled out a day after being appointed amid popular rage against the continued presence of the ousted president's party on the political scene.
Thousands protested across Tunisia to call for ousted president Zine El Abidine Ben Ali's Constitutional Democratic Rally (RCD) party to be shut out of the government, with riot police firing tear gas in the capital Tunis.
In an apparent bid for survival, the RCD officially expelled Ben Ali, who fled to Saudi Arabia in disgrace Friday after a wave of protests against his 23 years of iron-fisted rule, the official TAP news agency reported.
Interim president Foued Mebazaa and Prime Minister Mohammed Ghannouchi meanwhile quit the RCD, TAP reported, but Ghannouchi and seven other ministers continued to hold crucial posts including the interior and defence ministries.
The United States welcomed reforms announced by the new government, including media freedoms and the liberation of all political prisoners, but said political change in the Arab state must broaden and deepen.
"Clearly the government has to take steps to meet the aspirations of the Tunisian people.... The interim government is moving in that direction," State Department spokesman Philip Crowley told reporters.
"We want to see an open process, significant dialogue between the government and significant groups that want to play a role in Tunisia's future," he added.
UN Secretary General Ban Ki-moon called on Tunisia to hold "credible" elections to form a government backed by the whole nation, his spokesman said.
"The secretary general renews his concern about the growing violence in Tunisia and urges all efforts be made to restore peace and stability," spokesman Martin Nesirky said in a statement.
Earlier on Tuesday, two new ministers and a junior minister from Tunisia's main trade union -- a key player in the "Jasmine Revolution" protests -- announced their withdrawal after the union refused to recognise the government.
The appointed health minister, FDLT leader Mustapha Ben Jaafar, who had yet to be sworn in, also said he would hold off on joining the government. Three opposition leaders including Ben Jaafar were appointed on Monday.
Riot police fired volleys of tear gas to break up two protest rallies in the streets of central Tunis, one of which was led by key Islamist figure Sadok Chourou, who was imprisoned for 20 years under the old regime.
"The new government does not represent the people and has to fall," Chourou, a former leader of the Islamist movement Ennahdha, told AFP, as protesters chanted: "We can live on bread and water alone but not with the RCD."
Tunisia's new leadership is due to hold parliamentary and presidential elections in the next six months, although no precise dates have been set. Under the constitution, elections should be held in less than two months.
Ghannouchi said that he and other ministers from the previous government had helped "preserve the national interest" during days of chaos in the country.
"They kept their posts because we need them at this time," Ghannouchi said on French radio Europe 1. "All of them have clean hands," he said.
Interior Minister Ahmed Friaa said Monday 78 people had been killed in the protests and losses to the economy amounted to 1.6 billion euros (ê2.2 billion), equivalent to around four percent of GDP.
The prime minister also announced that popular Islamist leader Rached Ghannouchi would only be able to return from exile in London once an amnesty law had been approved as he had a life sentence hanging over him.
The Islamist was tried in absentia in 1992 for plotting against the state.
The Islamist Ennahdha (Awakening) movement said it would seek to acquire legal status as a political party and take part in the planned elections.
One of Ben Ali's fiercest critics, Moncef Marzouki -- who has said he intends to run in the presidential election -- also returned to Tunisia on Tuesday after years of exile in Paris, with emotional scenes at Tunis airport.
Marzouki said he would travel to the city of Sidi Bouzid in central Tunisia where social protests that escalated into a revolt against Ben Ali kicked off last month, calling the area "a land of martyrs and free people".
The Tunisian revolt has inspired dissidents in several Arab countries and there has been a spate of public suicides similar to the one of a 26-year-old graduate whose self-immolation in Sidi Bouzid sparked the protests.
Two Egyptians set themselves on fire on Tuesday and a father-of-six became the fifth Algerian to turn himself into a human fireball.
In tightly controlled Yemen, police fired warning shots as hundreds of protesters chanted pro-Tunisia slogans at Sanaa University.
Follow Emirates 24|7 on Google News.