Salman Taseer laid to rest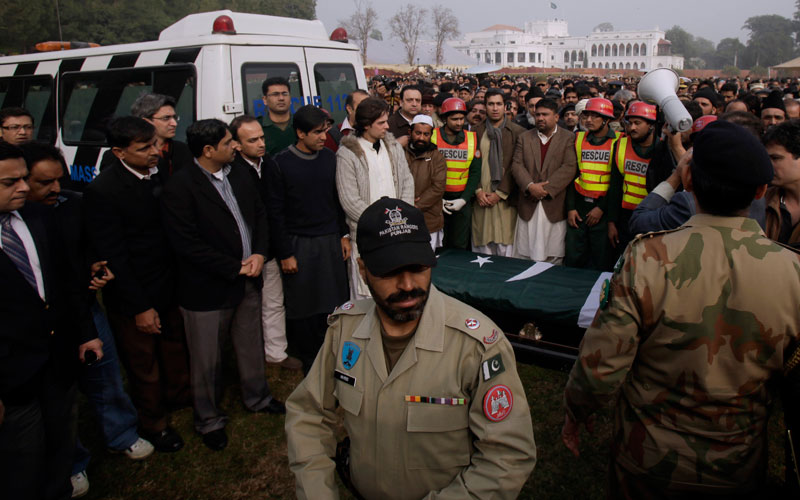 The assasinated governor of Pakistan's Punjab province was laid to rest on Wednesday amid tight security with the nation in mourning.
The entire country went on high alert for the funeral the governor.
Pakistan plunged into mourning over the country's most high-profile assassination in three years.
The 66-year-old, one of the country's strongest moderate voices raised against radical Islam and the advancing menace of the Taliban and Al-Qaeda, was shot dead by a member of his own security detail outside an Islamabad cafe.
Shrouded in a white sheet, his body was brought to Governor's House at the Punjab seat of government in Lahore, where family and friends paid their respects ahead of a state funeral ordered by Prime Minister Yousuf Raza Gilani.
The city shut down and authorities put a ring of steel around key venues to guard against possible unrest after dozens of supporters of the main ruling Pakistan People's Party took to the streets on Tuesday to protest against the killing.
"Security is on high alert in Lahore and in the entire Punjab," Lahore commissioner Khusro Pervez told reporters.
Gilani, who is facing a fight for political survival, has appealed for calm, with memories fresh of widespread riots after the December 2007 assassination of former PPP prime minister Benazir Bhutto.
Investigations are focused on whether the bearded police commando, who confessed to killing Taseer because of calls to reform blasphemy laws, acted alone or as part of a wider conspiracy.
According to the preliminary autopsy report, Taseer's body had 29 bullet wounds front and back, puncturing his vital organs.
"We will investigate whether it was an individual act or there is some organisation behind it," Interior Minister Rehman Malik told reporters.
He named the assassin as Malik Mumtaz Hussain Qadri, a government-trained commando assigned to the governor on at least five or six previous occasions.
"We want to know who put his name on the duty list. We know he visited the police supervisor to get his name on the list," Malik told reporters.
The supervisor and his deputy are among more than 10 people taken into custody for interrogation, officials said.
Taseer used Twitter and public appearances to speak out boldly against the blasphemy law, vowing not to back down despite pressure from his ruling Pakistan People's Party and threats to his life from fanatics.
He visited a Christian mother-of-five sentenced to death for insulting the Prophet Mohammed (PBUH), declaring that he was confident she was innocent.
"I was under huge pressure sure 2 cow down b4 rightest pressure on blasphemy.
Refused. Even if I'm the last man standing," was one tweet.
"Tomorrow mullahs r demonstrating against me after Juma (Friday prayers). Thousands of beards screaming 4 my head. What a great feeling!" was another.
The United States, which is in a sometimes troubled security alliance with Pakistan in its fight against Islamist insurgents in Afghanistan, said that his killing was a "great loss".
Analysts said the assassination by a police commando underscored how deeply religious extremism had penetrated society, just days after businesses closed across Pakistan to protest against any softening of the blasphemy law.
"Religious extremism has penetrated so deep into society that it has gone into the state system," said political and security analyst Hasan Askari.
Fears are also rising for the safety of PPP lawmaker and former information minister Sherry Rehman, who has proposed a private member's bill in parliament seeking to soften the blasphemy law.
Violence flared on December 31 during a mass protest strike that shut businesses across Pakistan over any bid to end the death penalty for blasphemy.
Government will be paralysed for three days of national mourning, compounding the crisis facing the PPP-led administration since it lost its majority with the departure of coalition partner the Muttahida Qaumi Movement.
Opposition leader Nawaz Sharif has given the prime minister 72 hours after the mourning period to agree to a series of reforms.
Analysts say Gilani will be reluctant to alienate Sharif, worried that his Pakistan Muslim League-N party could call for a vote of no-confidence in the government and so force early elections.
Follow Emirates 24|7 on Google News.