Search begins for nine climbers killed on Nepal peak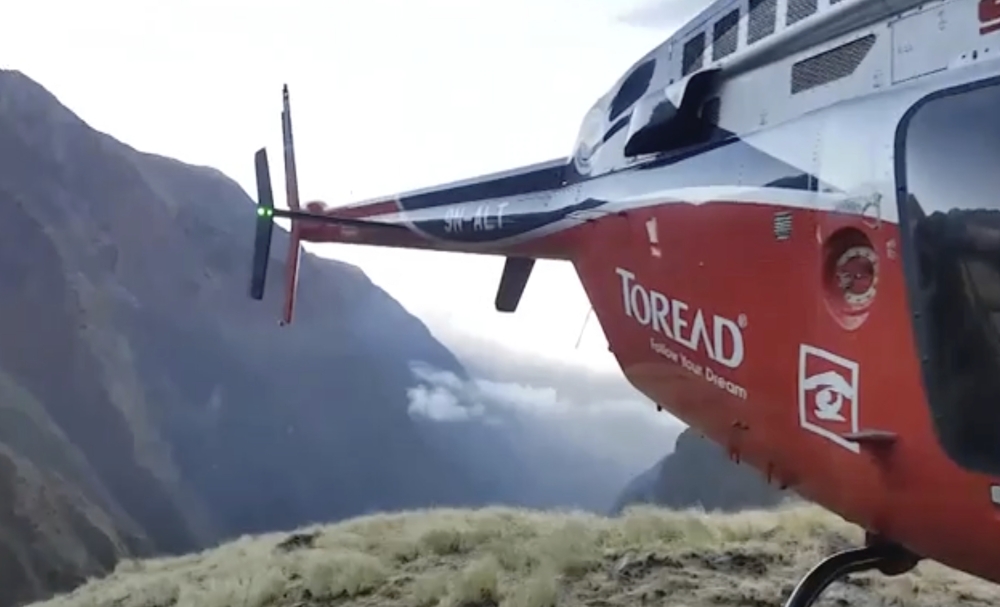 A rescue team was Sunday attempting to retrieve the bodies of nine climbers killed in a violent storm on Nepal's Mount Gurja, a freak accident that has left the mountaineering community reeling.
A helicopter reached a village just below the area where the South Korean climbing expedition was camped when powerful winds and snow swept through, killing the entire team and scattering their bodies as far as 500 metre (1,640 foot) away.
"The helicopter will drop the four guides at the site and they will collect the bodies," said Siddartha Gurung, a chopper pilot who is coordinating the retrieval mission.
Attempts to reach the remote site in the Dhaulagiri mountain range in Nepal's Annapurna region on Saturday were hampered by strong winds.
Gurung did manage to reach the area and described a scene of total destruction.
"Base camp looks like a bomb went off," said Dan Richards of Global Rescue, a US-based emergency assistance group that will be helping with the retrieval effort.
The expedition was led by experienced South Korean climber Kim Chang-ho, who has climbed the world's 14 highest mountains without using supplemental oxygen.
Mountaineering experts are questioning how the experienced team was so badly hit while still at base camp at around 3,500 metres.
"At this point we don't understand how this happened. You don't usually get those sorts of extreme winds at that altitude and base camps are normally chosen because they are safe places," said Richards.
The team -- five South Koreans and four Nepali guides -- had been on 7,193-metre (23,599-foot) Mount Gurja since early October, hoping to scale the rarely climbed mountain via a new route.
A sixth South Korean climber was staying at a village lower in the valley when the storm hit, after being forced to a lower altitude by health problems.
The freak storm is the deadliest incident to hit Nepal's mountaineering industry since 18 people were killed at Mount Everest's base camp in 2015 in an avalanche triggered by a powerful earthquake.
The previous year, 16 Sherpas were killed on Everest when an avalanche swept through the Khumbu Icefall during the busy spring climbing season.
Then in October that year, a blizzard killed more than 40 tourists and their guides in the Annapurna region, a disaster that was largely blamed on poor weather forecasting and lacklustre safety standards in Nepal's poorly regulated trekking industry.
Follow Emirates 24|7 on Google News.