Serbs tear down contested wall in divided Kosovo town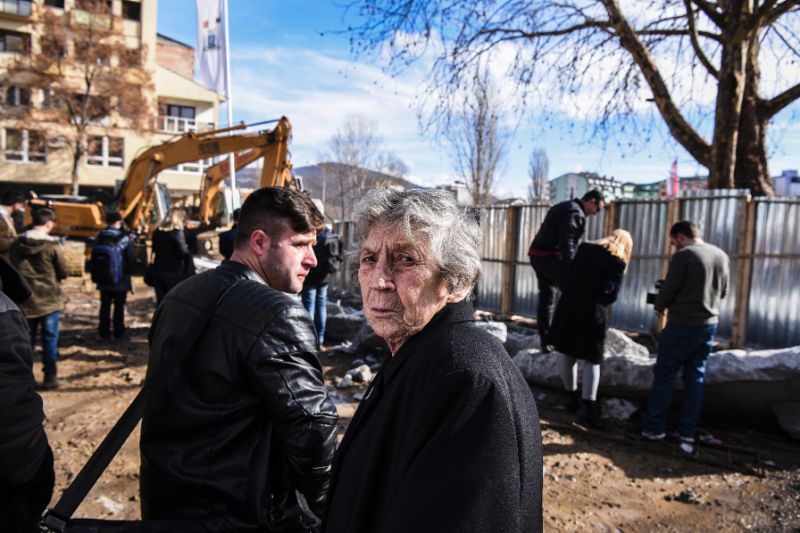 Ethnic Serbs in the Kosovo town of Mitrovica on Sunday tore down a controversial wall critics blamed for reinforcing ethnic divisions in an already tense region.
The mayor of the city's Serb-dominated northern sector, Goran Rakic, argued the barrier built last month would protect a new pedestrian zone near the bridge crossing the Ibar river to the southern zone, where most of the town's ethnic Albanian population live.
But the two-metre (six and a half feet)-high concrete wall, stretching some 100 metres, quickly took on a larger political dimension, with Kosovar authorities in Pristina calling for its dismantling.
On Sunday, a crew of workers operating two bulldozers took three hours to demolish the barrier, an AFP journalist reported.
European Union foreign policy chief Federica Mogherini hailed the move as "constructive", and said leaders on both sides were "demonstrating courage and vision by taking down walls and focusing on building bridges".
The move was the first evidence of a thaw between Kosovo and its northern neighbour Serbia after weeks of strained relations, and came after EU-sponsored talks between leaders of both sides in Brussels last month.
Ties between the two Balkan countries have reached their lowest level since they opened talks to improve relations back in 2011, three years after Kosovo declared independence from its larger neighbour.
Last month Belgrade sent a train towards Kosovo painted in the colours of the Serbian flag, bearing the words "Kosovo is Serbia" in multiple languages, and decorated inside with Serbian Orthodox imagery.
Pristina called it a "provocation", and the train was stopped from crossing the border over fears it would be attacked, according to Serbian Prime Minister Aleksandar Vucic.
Members of Kosovo's ethnic Albanian majority were also outraged by the arrest in France in January of former prime minister Ramush Haradinaj, under an international warrant issued by Serbia, which wants him tried for alleged war crimes committed during the 1990s conflict.
Kosovo's ethnic Albanian insurgents fought Serbian forces in 1998-1999.
The former province unilaterally declared independence in 2008, but Serbia does not formally recognise Kosovo's sovereignty.
Mogherini has warned the two states that normalising relations is essential if they want to pursue closer relations with the European Union.
Follow Emirates 24|7 on Google News.